British Esports and British Basketball have formed a team of NBA 2k21 esports players to represent Great Britain on the global stage in the upcoming FIBA Esports Open III, taking place across three different weekends throughout April and May.
For the first time, the North & Central America and Europe Conferences will consist of two divisions: Current Generation (PS4) and Next Generation (PS5).
The GB team will feature in the Next Generation (PS5) tournament for the European Conference, which will take place from May 7th to 9th. Great Britain is in group 3 with Italy and Belgium.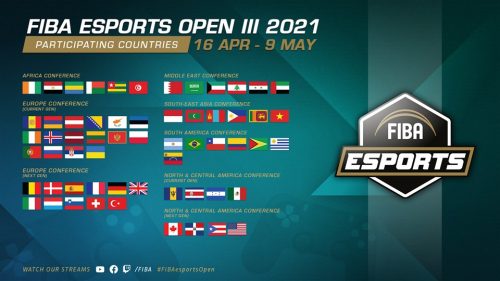 Each team will consist of seven players: five on the court and two reserves.
The GB team will be led by British professional NBA 2K esports player, Harry 'HazzaUK' Hurst, who plays for DUX Gaming. HazzaUK will captain the British side and has helped to select the players.
The players who will represent Great Britain in the FIBA Esports Open III are:
Harry 'HazzaUK' Hurst – Point Guard (PG)
Jordan 'WelshJordy' Polverino – Shooting Guard (SG)
Freddie 'xFredzzz' Goode – Small Forward (SF)
Kieren 'xKiesteel' Steel – Power Forward (PF)
Samuel 'SAMDARULER' Adegun – Center (C)
Toby 'PIINGERS' Peters – Sub
Termon 'BailoutNBA' Serrant – Sub
FIBA, the International Basketball Federation, has announced an increased field of 60 national teams taking part in the third edition of the FIBA Esports Open, set to take place over three weekends with eight regional conferences.
This is an increase from the 38 national teams that took part in the second FIBA Esports Open 2020 held in November 2020, in which Great Britain reached the semi-finals of the tournament.
The PS5 game will be played remotely on NBA 2K21 using the Pro-AM mode. Teams are once again allowed to have full customization of player avatars, uniforms and arena designs.
Teams are divided into one of the following conferences: Africa, Europe (Current Gen), Europe (Next Gen), Middle East, South-East Asia, South America, North & Central America (Current Gen), and North & Central America (Next Gen).
The South East Asia, Africa, Middle East Conferences, the North & Central America (Current Generation) and Europe (Current Generation) got things going last month.
North & Central America (Next Gen), Europe (Next Gen) and South America will take place on May 7th to 9th. There's the full tournament schedule here.
Each tournament will run over a weekend, with group stage games scheduled for Friday and the best-of-three playoff series to follow on the Saturday and Sunday.
The conferences can be viewed across  FIBA's Facebook, Twitch and YouTube channels. Group stage games will be shown on Facebook and YouTube and commentated by remote casters, while all playoff games will be fully produced from FIBA's virtual studio in Latvia.
You can visit the FIBA Esports Open website for more info