Blizzard Entertainment
In Asia-Pacific, Europe, and the Americas—48 players battled it out in weekly online play during Seasons 1 and 2 of Grandmasters. Six players were relegated from the competition, while six more ran the Playoff gauntlet to secure their place at the Hearthstone Global Finals.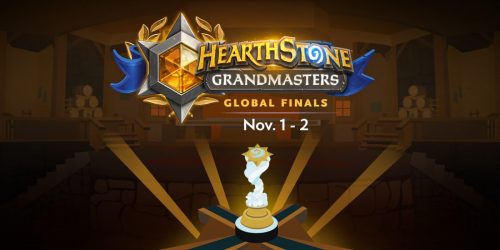 In China, the field was wider, with a Playoff bracket determined by the victors from a pool of 64 veterans and an open pool of 1024 players represented at several live events over the course of the year. It's all boiled down to two players from the region joining the best from the rest of the world at BlizzCon.
Here are the 8 players that will compete at the Hearthstone Global Finals:
Asia-Pacific – Kim "Surrender" Jung-soo
Asia-Pacific – Chen "tom60229" Wei Lin
Americas – Francisco "PNC" Leimontas
Americas – Brian "bloodyface" Eason
Europe – Chris "Fenomeno" Tsakopoulos
Europe – Kevin "Casie" Eberlein
China – Xiaomeng "VKLiooon" Li
China – Gao "Leaoh" Yang
Competitors will play the Shield-Phase Conquest format through dual tournament groups before facing off in a single elimination bracket. All matches will be best-of-three except for the semifinals and finals which will be best-of-five. US $500,000 is on the line, along with the Global Finals trophy.
Dates: November 1-2
Broadcast Start Time: 12:00 p.m. PDT Nov. 1 & 10:30 a.m. PDT Nov. 2
Prize Pool: US $500,000
Format: Shield-Phase Conquest with a ban
Language Streams:
Twitch Drops
Twitch Drops will be running for the duration of the Hearthstone Global Finals! You can earn two Saviors of Uldum pack for watching 3 hours of the broadcast on any of our official channels during designated timeframes. Watch for a total of 6 hours and you'll three more packs! Additionally, 1,500 lucky eligible viewers will be randomly rewarded with Classic card packs every hour. Learn more about Twitch Drops and how to link your account here.
Watch live video from PlayHearthstone on www.twitch.tv