AVerMedia Technologies, Inc., a leader in digital video and audio, today announced it has launched the Live Streamer 311 Bundle (model BO311), an entry-level streaming kit containing a 1080p60 game capture card, a 1080p30 webcam with AI features, and a high quality condenser USB microphone. The new streaming bundle, which gives aspiring content creators everything they need to create dynamic, Full HD content for Twitch, YouTube, Mixer, and other streaming platforms with plug-and-play setup over USB 2.0, is available at Best Buy at a suggested retail price of $249.99. The Live Streamer DUO Bundle (model BO311D), consisting of the webcam and capture card without the microphone, is also available at Best Buy for a suggested price of $179.99.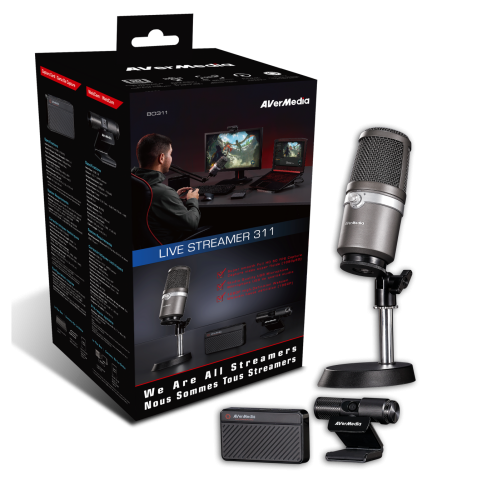 The Live Streamer 311 Bundle is the perfect all-in-one solution for content creators starting a new channel. It provides the three most important pillars for live streaming: video capture for PC and console gaming in 1080p via the popular Live Gamer MINI capture card, a Live Streamer CAM 313 Full HD webcam to share reactions, and a USB Microphone AM310 studio condenser mic to let your message be heard clearly.
The Live Streamer 311 Bundle includes AVerMedia's powerful StreamEngine and CamEngine plugins that support third-party software such as Streamlabs OBS, OBS, and XSplit for seamless integration. While using StreamEngine, the video capture card's onboard H.264 hardware encoder allows creators to record video with minimal CPU impact. Activating the CamEngine AI-developed plugin while using the webcam offers content creators additional new features. From skin beautifying filters to color correction and tracking face stickers, visually interesting content is guaranteed!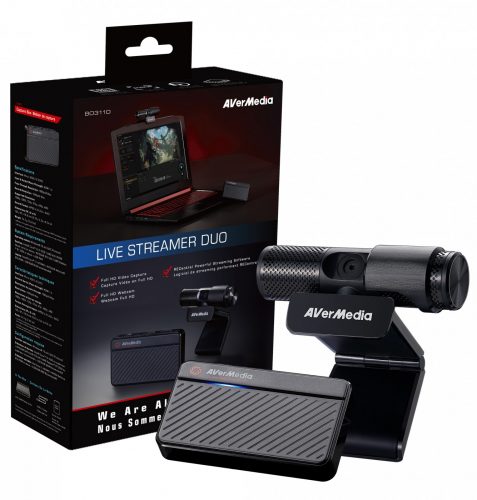 "With the plug-and-play Live Streamer 311 Bundle, the dream of starting a streaming channel has never been easier to achieve for content creators," said Eddie Chen, Product Planning Manager of AVerMedia. "Aspiring creators will be able to create entertaining, Full HD content with studio-quality voiceover through this intuitive and high value package!"
For influencers who want an all-in-one streaming solution, AVerMedia's included RECentral streaming software allows streaming to multiple streaming platforms such as YouTube, Twitch, and Facebook at the same time. RECentral supports multiple overlays including webcam feed and channel logo, and allows multiple streams with different resolutions or bitrates to be generated from one streaming PC.
Live Streamer 311 Bundle (BO311) Product Details
Live Gamer MINI (GC311)
Interface: Micro USB 2.0 (UVC)
Video Input: HDMI 1.4
Video Output (Pass-Through): HDMI 1.4
Max Pass-Through Resolutions: 1080p60
Max Record Resolutions: 1080p60
Supported Resolutions (Video input): 1080p, 1080i, 720p, 576p, 576i, 480p, 480i
Record Format: MPEG 4 (H.264+AAC)
Dimension (W x D x H): 100 x 57 x 18.8 mm (3.93 x 2.24 x 0.74 in)
Weight: 74.5 g (2.63 oz)
Live Streamer CAM 313 (PW313)
Interface: USB 2.0
Sensor: 1/2.7" CMOS sensor
Image Resolution: 2MP
Max Frame Rate:1080p30, 720p60
Field of View: Horizontal 65°
Focus Type: Fixed
Working Distance: 40 cm – 100 cm (1.31 feet – 3.28 feet)
Lens f#: 2
Video Mode: MJPEG
Privacy Shutter: Yes
Built-in Mic: Dual Mics (Mono)
Dimensions (W x D x H): 90 x 53 x 47 mm (3.54 x 2.08  x 1.85 in)
Weight: 130g (4.6 oz)
Cable Length: 1.5 M (5 ft.)
USB Microphone (AM310)
Interface: USB 2.0 port
Type: Uni-directional condenser microphone
Polar Pattern: Cardioid
Sample Rate: 48 kHz
Bit Rate: 16-bit
Power Required: USB (5V DC)
Sensitivity: -60 ± 5 dB (at 1 kHz, 0 dB = 1 V/u bar)
Frequency Response: 20–20,000 Hz
Dimensions (Mic) (W x D x H): 90 x 130 x 270 mm
Weight (Mic): 468 g
The Live Streamer 311 Bundle (BO311) is now available exclusively at Best Buy for a suggested list price of $249.99. The Live Streamer DUO Bundle (BO311D) without the microphone is also available at Best Buy for for a suggested list price of $179.99