The National Videogame Museum (NVM) in Sheffield, UK is proud to launch its new family-friendly summer program, Summer of Buttons. Opening on 24th July, in time for Sheffield school holidays, Summer of Buttons will run until 1st September. Throughout this period, the NVM will be open everyday, welcoming game enthusiasts and families to partake in brand new activities that celebrate the videogame button.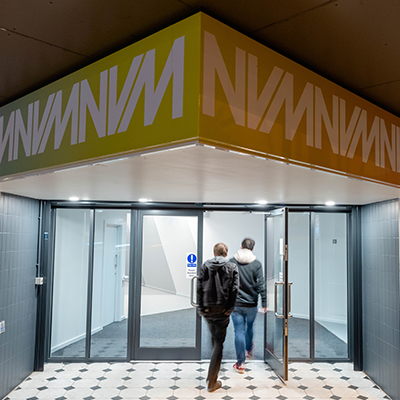 The Summer of Buttons brings with it a refresh of the National Videogame Museum galleries, and will mark the beginning of 'Season 2' of the Museum program. As such, there will be brand new playable exhibits on display, including bespoke games that can not be played anywhere else and that are designed to examine how we play games. This will include exhibits such as '4-Player Pac-Man', which is a modified version of the arcade classic made to be played by a team. There will be a 'Button Bash Bundle', that explores athletic-based videogames, such as the famously rare Stadium Events by Bandai. These new exhibits will be joined by many more across the duration of the Summer season.
Alongside the new exhibits listed above, guests will have the potential to take part in daily guided workshops, where they will make and use their own button. These workshops have been designed exclusively for the NVM summer season, and will allow guests to learn about how buttons are made for videogame controllers. After making their own button, guests will then be able to plug it into a game to see what it can do!
The NVM is also very excited to start a collaboration with Special Effect, a world leading Charity founded to make videogames accessible to those with disabilities. As a part of this collaboration, we will be showcasing a dedicated exhibit based around accessible controllers. Visitors to the museum will be able to see how these controllers work, as they play popular games such as FIFA 19 and Forza Motorsport, using specially designed control schemes.
Iain Simons, Director of Culture for the NVM, said "The idea for Summer of Buttons to create a very easy-to-access, inclusive season of activity across the whole Museum, inviting an audience of game lovers and families alike to think about the simple input mechanism of the humble button. Alongside a host of new playable installations we are really excited to try out the first educational workshops for the public in the gallery. It's also going to be properly fun!"
About the National Videogame Museum
The NVM is a charity that educates the public about the art, science, history and technology of videogames. The NVM celebrates videogame culture and allows the public to play most of its exhibits, which include games consoles, arcade machines and other interactive experiences, including games designed exclusively for the Museum. The Museum displays the UK's only permanently accessible collection of over 100 videogames as well a large collection of game memorabilia and ephemera. Formerly the National Videogame Arcade in Nottingham, the Museum has welcomed over 120,000 visitors, including hundreds of school visits, since it opened in 2016. The Museum presents a mixture of permanent and temporary exhibitions that are scheduled up to 2 years in advance, some of which tour the UK. For more details about the NVM, please visit: http://www.thenvm.org