Harris Rubenstein – NBA 2K League
Player protections and retention figure to be hot-button NBA 2K League topics every single year and this offseason is no different. All teams besides one have publicly announced their player protections with some interesting calls along the way. An early trend you will notice is a pointed attempt to keep competent point guards, leaving plenty of talented wings and bigs up for grabs during the Expansion Draft. An extreme way-too-early analysis of NBA 2K20 — if you're on Twitter at least — says it's going to be a very different game from it's predecessor much like in previous years, so trying to pick out the meta for Season 3 at this stage is near impossible at this time. In the meantime, let's focus on numbers and see which teams seemingly set themselves up well for next season. Let's start with the teams that missed the playoffs.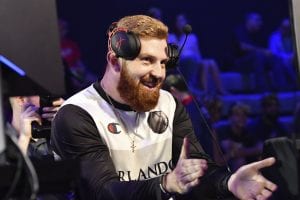 Wizards District Gaming:
Protected: ReeseDaGod (SF), Dayfri (PF/C)
Unprotected: Demon JT (PG), USERPICK (SG), Gilly (C), PaulB (F)
Moving on from the 1st pick in franchise history, Demon JT, is notable. He was viewed as the face of the franchise when drafted, and while very talented, the league has yet to have a meta where Demon can really thrive. A fresh start is likely going to be great for both sides and for the Wiz, it will allow them to shift identities and build around ReeseDaGod and Dayfri. Reese saw the biggest jump of any player in the NBA 2K League from Season 1 to Season 2, going from 7.1 PPG to 20.7 PPG. While he wasn't the most efficient player, he is the definition of a volume scorer, scoring the third most total points of any player in the league in Season 3 and leading the entire league in Field Goals Made. Even with those stats, Dayfri is the face of this team now. One of the most well known players in the league, Dayfri had an up-and-down season in his first year in D.C. A position change didn't help things, but a re-watch of some of his best games shows a player with an extremely high IQ and a plethora of defensive versatility.
Hawks Talon GC:
Protected: Dat Boy Shotz (PF), Rando (PG/SF)
Unprotected: MrStylez (PG), Jay A Fool (SG), Arsonal x (C), xXSTL2LAXx (G/F)
Things never seemed to really click for Hawks Talon GC in Season 2 and their player protections may shed some light on their direction moving forward. Bringing back Shotz was no surprise and Rando has a ton of potential despite an up-and-down rookie season. Sometimes when things don't work, you bring back as much talent as possible and roll the dice again. Shotz is one of only 13 players to average 17+ PPG across 2 seasons in the league and leads those players in 3P% at 55%. For Rando, it's all about what comes next. He is a much better shooter than his 47.4% from the floor would suggest and Coach Wes will almost certainly be looking for a backcourt match to help open things up on the perimeter for him. Not retaining Arsonal may come as a surprise, however, they may have the opportunity to pick him back up after the Expansion Draft. If not, there are plenty of good Centers out there.
Knicks Gaming: 
Protected: G O O F Y 757 (C), OriginalMalik, (SG/SF)
Unprotected: iamadamthe1st (PG, retired), IdrisDaGoat6 (G/F/C), YEYNotGaming (F), HazzaUK (G/F)
Knicks Gaming couldn't repeat their wild run from Season 1 and now look to rebuild their roster heading into Season 3. It's definitely tough to break up this group — Idris, YEY, Adam & Goofy were all apart of that great Finals run from Season 1 and will forever be a part of the league's history, but with a new game comes a new focus. The two players the Knicks protected have one great thing in common, they are perfect building blocks for an elite point guard. Let's start down low. Goofy is one of only two centers to average 18+ PPG and 12.6 RPG the past two seasons and has also proven to be an elite rim protector and post defender. He is a dream for any point guard who thrives in the pick-and-roll and with Coach Kyle Rudy's eye for talent, it's exciting to think about who they could pick up next season with Season 1 champ and the league's resident fashion icon iamadamthe1st moving on from the league. Original Malik was the team's 1st round pick from this past season and ended up leading the entire team in total points, shots made and 3PM. He proved to be a very capable sharpshooter and showed in THE TICKET that he has as much upside as any rookie in the league from this past season. Knicks Gaming heads into Season 3 with only one player remaining from Season 1, but with a great GM, a head coach and two franchise cornerstones. With that, the future appears bright in the Big Apple.
Cavs Legion GC:
Protected: oLarry (PF/C), AllHailTrey (SF/PF), Godddof2k (SG)
UnProtected: LYKaPRO (PG), Savage (PG), Strainer (G/F)
In the case of Cavs Legion GC, they had some of the hardest decisions to make of any team. Keeping the reigning DPOY obviously wasn't one of them, so let's leave the Season 2 steals leader Godddof2k out of this. Similar to Knicks Gaming, the players Cavs Legion retained are perfect for an elite point guard. AllHailTrey is a great wing who can play multiple positions on the perimeter or bang down low as one of the league's best shooters at the Power Forward position. oLarry is the definition of a tape vs. box score player. On film, he's a glitchy defender whose instincts and IQ jump off the screen and his two-way skills as a big man can't be ignored. His efficiency numbers next to AllHailTrey also ranked in the top 5 following the trade and those numbers should only get better with time.
Bucks Gaming:
Protected: Arooks (SG/SF), Plondo (C)
Unprotected: SlayIsland (G/F), Chaddynick (G), BigMeek (PF), RSG (F/C)
For Bucks Gaming, their protections were all about keeping elite talent in house. Arooks cemented himself as an elite shooter and one of the best all-around players in the entire league and was rewarded with a spot on the All-NBA 2K League 1st team. Nobody made more 3s than Arooks last season (74) and his TS% of 71.2% ranked top 10 among qualified shooters. Down low, Plondo took the league by storm as a rookie. He scored the most points of any big this season (293) and was featured on the 1st ever All-Rookie team. Bucks Gaming are in prime position heading into Season 3 with a protected duo that has the potential to be as good as any in the whole league. If Plondo can improve off his great rookie season and the team finds an elite Point Guard, Bucks Gaming has the makings of a contender next year.
Raptors Uprising GC:
Protected: Kenny Got Work (G/F), Sick x 973 (PF)
UnProtected: Doza (PG), OOC Slim (G/F), TsJosh (G/F), KingQuai614(C)
Raptors Uprising GC and Bucks Gaming have a ton in common and it's no surprise their protections were similar as well. They ended up keeping their best perimeter shooter and one of the most versatile players in the entire league in Kenny Got Work. Fun fact, he's the only player in the league to average at least 17.9 PPG & 7 APG while shooting above 55% from the floor through two seasons. Pairing him with Sick long-term is a fantastic move and, like with Bucks Gaming, gives them a one-two punch that can get in the ring with any team. Sick made more 3s than any qualified center this year (30) and it wasn't even close. He's an elite offensive big man and a perfect piece for Toronto to build around. From here, Raptors Uprising will head into the draft hunting for another perimeter shooter and a defensive-minded big.
NetsGC:
Protected: NateKahl (SG/SF), Shuttles (F/C)
Unprotected: Lav (G/F), Wavy.Zay (G/F), oShockey (F/C), iiTzChas (F/C)
NateKahl and head coach Ivan Curtiss continually stressed how they wanted to use the first season in NetsGC history to establish a great culture. They feel they succeeded at doing that, so now with their attention turns to playoff success, their protections make sense. NateKahl was never in question, but Shuttles was an interesting move. His positional and defensive versatility makes him a perfect player to pair with Nate. Not keeping their first round pick Wavy.Zay may come as a bit of a surprise for some, but the team could potentially pick him back up after the Expansion Draft. Their first pick will do wonders for a team that needs another elite piece for Season 3.
Heat Check Gaming:
Protected: Hotshot (PF/C), MaJes7ic (G/F/C)
Unprotected: Hood (G), 24K Dropoff (F/C), ChaChingSingh (G/F), MOAM (F)
Heat Check Gaming could not match their success of Season 1 in Season 2. They made trades for both Hood and MOAM and never seemed to find the right lineup to match with Hotshot. Going into Season 3, Coach Derric Franklin had some huge decisions on his hands. What to do with the guys he traded for and how many guys can you keep from a team that went 6-10. The answer? Keep the guys you trust the most. Hotshot was always going to be protected, but seeing MaJes7ic kept goes back to something I heard their coach say to our own Scott Cole. He said, "I wish I could have a team of five MaJes7ic's." High praise coming from one of the most respected members of the community. For Heat Check, they will be falling back on their talent evaluation process and hoping they can find some elite players to match with their superstar (Hotshot) and their uber-versatile chess piece (MaJes7ic). Their first step will be finding that elite point guard that has eluded them through two full seasons.
Pistons GT:
Protected: DevGoss (PG), May (C)
UnProtected: splashking (G), iiNsaniTTy (G), Joseph (C), Jaacko (G/F)
After winning just two games in Season 2, Pistons GT head into the offseason with a fresh slate and two quality pieces that can serve as excellent complementary pieces to slot next to any incoming player. DevGoss was initially picked up by Hawks Talon GC before being shipped to Detroit in a trade for MrStylez. By the end of the season, he was the best shooter on the roster and showed why he has so much respect in the community. His pairing with May will be an interesting one. May is one of the quieter players in the league and was a stable force for Pistons GT all year long. With a high lottery pick coming in along with potentially four new players, the Pistons could be looking at a very quick rebuild if they play their cards right.
Jazz Gaming:
Protected: Yeah I Compete (PG), Lotty (G/F), Ria (C)
Unprotected: KevDontMiss (F), Gliz (PF), OGDeedz (SG)
Jazz Gaming are a bit of a mystery. They were 3rd in the league in FG% (59.1%), 1st in total assists (295), and were middle of the pack in turnovers (170). Why didn't that equate to wins? Probably because they were one of only three teams that allowed opponents to shoot at least 60% from the field and 48% from 3-point range. Their defense held them back, but their protections show a shift in strategy. Lotty and Compete are two of the best two-way players at their position in the entire league and have great chemistry together as Pro-Am teammates. Ria had a relatively uneventful first season in the league, but he has superstar potential and could end up being one of the five best players at his position by the end of Season 3. Not retaining Deedz and Gliz is tough, both played very well this season and would figure to be back next season as well, but the three they kept are good pieces to build around. The right picks in this year's Draft could propel them to the team's first playoff visit.
Lakers Gaming: 
Protected: Vert (G/F), Mootyy (C)
Unprotected: Kev (G/F), Kontrul (G), Detoxys (F), Safiya4ya (G/F)
Lakers Gaming never really got going in their inaugural season and were faced with an ever-changing backcourt and little stability anywhere besides center. Mootyy remains the face of this franchise and is saying all the right things coming off their 3-13 season. We all know he has a lot of talent, but two seasons now of not making the playoffs will put a chip on his shoulder for next season. Vert was a fantastic choice to protect. Video games can be very fickle and they change year over year. Vert is widely known as one of the best 2K players in the world, but he has really yet to find his place in the league. Perhaps 2K20 will finally be the right fit for him, and he will certainly be given every opportunity to succeed next season.
Magic Gaming:
Protected: Reizey (PG), ToXsiK (SG), DT (PF)
Unprotected: TuckerLocksUp (F/C), KingCamRoyalty (C), UCManny (G/F)
Here's a cool stat. There was only 1 rookie point guard-big man combo to average 30+ PPG this season. That honor goes to Reizey and DT! You couldn't have picked a better offensive counterpart to Reizey in the rookie class and Magic Gaming rewarded both with a protection for Season 3. The biggest problem for the Magic this year was ironically also their biggest strength. They were so defensively-minded that their offense suffered heavily. UCManny and ToXsiK are both fantastic defensive players, but having both of them out there without another wing scorer didn't bode well for Magic Gaming's offense. Bringing back ToXsiK is a great move from multiple angles (one of them being social content). It also gives them a leader in the organization and a defensive stalwart to build around while Reizey and DT continue to develop into elite offensive players. The future is bright in Orlando and with a lottery pick coming down the stretch, they could be very good very quickly.
Grizz Gaming:
Protected: Vandi (PG), AuthenticAfrican (C)
Unprotected: KelMav (G/F), DDouble (G/F), UniversalPhenom (F), Jayrod (G/F)
Grizz Gaming are coming off a thrilling, yet disappointing Season 2. They were so close to making the playoffs, but they fell just short on the last day of the season. With eyes turned towards Season 3, the Grizz kept their best two players in Vandi and AuthenticAfrican. Vandi started slow, but developed into one of the league's most underrated players. He may not have been a Tier 1 PG (Mama, oFab, Radiant), but he was smack in the middle of the Tier 2 guys and was one of only five PGs to average 17+ PPG & 8+ APG. AA started slow as well, but he was incredible to end the year, averaging 18.8 PPG, 13 RPG, 4.5 APG while shooting 76.1% from the floor to help Grizz Gaming go 5-1 over their final six games. For the rest of the roster, it seems Coach Lang Whitaker wants a fresh start with his two stars going forward, but don't rule out them picking up one or two of them during the draft. That team thrived on chemistry last year and we could see them rely on that again next season.