Blizzard Entertainment
The Overwatch Contenders program has been vital in the growth of competitive Overwatch talent from all over the world. We've seen former Contenders players from regions such as Australia, North America, South America, South Korea, China, and Europe rise into the Overwatch League with incredible success. However, we are always looking to improve. With the Overwatch League moving to a home-and-away structure in 2020, and after listening to feedback from the community, we will be making some changes that will continue to surface up-and-coming talent, provide players with more opportunities to compete, and will hopefully be easier to follow for all you Contenders fans out there.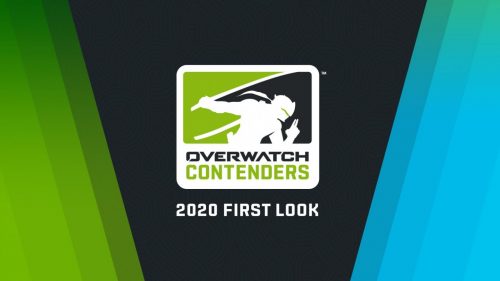 The first major change we will be making is to the format. First, we'll be splitting the regions into two conferences in a way you will probably recognize—Atlantic (Europe, North America, South America) and Pacific (Australia, China, Korea, Pacific). We'll also be moving away from the traditional league structure we've been using historically in Contenders and move to a bi-weekly tournament series, where teams will be able to accumulate points that will ultimately qualify them into a regional playoff series. We will be moving Contenders Trials to a bi-weekly cycle also, to give more opportunities for Open Division teams to break through.
But first, we'll have to transition.
What will the transition look like?
In early 2020 we will invite all 2019 Season 2 Contenders teams to a preliminary double-elimination tournament, which will determine seeding into the new system. The top four will receive byes into their region's first Contenders tournament quarterfinals as seeds 1 though 4, and the bottom four will receive byes into their region's first Contenders Trials tournament as seeds 1 through 4. This will only need to be played out once, as it's simply a transitional tournament to seed fairly into the 2020 structure.
What will a season in 2020 look like?
Phase 1: A season will first begin with Open Division for each region, open to all players of all skill levels (not including Contenders players). This will run for seven weeks—six weeks of Swiss into a week of Playoffs—to produce the top 8 teams that will compete in Contenders Trials.
Phase 2: Contenders Trials will take place over one week, where 12 teams (bottom 4 from Contenders, top 8 from Open Division) will compete in a single-elimination bracket.
Phase 3: This is where the first of the Contenders bi-weekly tournaments will take place, alternating week-to-week between the Atlantic and Pacific divisions. 12 teams—the top 4 Contenders teams and top 8 Contenders Trials teams—will compete in a single-elimination bracket. This is where points will be awarded for the region's playoffs. The top four teams will retain their auto-qualification into the next Contenders tournament, which will take place two weeks later, while the bottom eight will compete in Contenders Trials the following week.
Phase 4: Repeat phases 2 and 3 for Contenders Trials Week 2, then Contenders Week 2.
Phase 5: Repeat phases 1 through 4. When it's all over, the top 8 teams with the most points will secure their spot in their regional playoffs.
Phase 6: The top 8 teams will compete in a double-elimination regional playoff tournament to determine their region's Contenders champion.
There will be two full seasons of Contenders in 2020, producing two championship-winning teams per region.
What about Showdowns and the Contenders Gauntlet, are they returning in 2020?
They are! Teams that perform well in their regional tournaments may qualify for these international live events. We will have more details to share on those at a later date.
What about prize money/LANs/other thing you didn't mention in this blog?
We will be sharing more details about all of the above as we get closer to the first 2020 season. Until then, be sure to follow us at @owpathtopro to stay up to date with all things path to pro!