Grand Finals Series Preview: Shock vs. Titans
CHAMPIONSHIP SNAPSHOT
#3 San Francisco Shock (23-5) vs. #1 Vancouver Titans (25-3)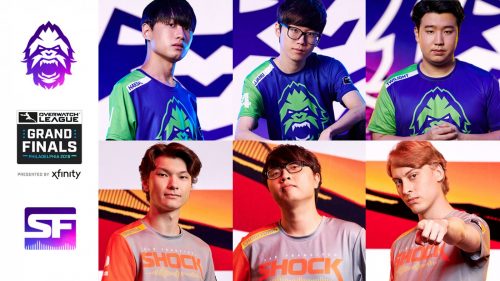 SEASON SERIES WATCH PARTY
POSITIONAL HEAD-TO-HEAD
Damage
The damage lines for both teams have been incredibly impressive throughout the playoffs. Reaper and Doomfist are the dominant heroes at 74.6 and 72 percent pick rates, respectively. So how does each team stack up in these important damage dealer roles?
Nam-Ju "Striker" Gwon has come off the bench and picked up Reaper for the Shock, and he has been one of the best players in the league at it. He leads the league in Death Blossom efficiency and is ranked second or third in every other major statistical category. On the eye test, Striker does more in neutral, non-ult-dependent fights than his counterpart on the Titans, Min-Soo "Seominsoo" Seo. However, Seominsoo does lead the league in Final Blows per 10 minutes on Reaper, and he also dies the least. Seominsoo does lack in solo kills, though, ranking eighth to Striker at second. This is a very close Reaper matchup, but Striker is marginally more effective.
The current meta is all about Doomfist. If you don't have a good Doomfist, you don't have anything. Doomfist needs to be initiating fights and cleaning up won engagements. The entire match may come down to who plays Doomfist better, 2019 MVP Jay "Sinatraa" Won or 2019 Rookie of the Year Hyo-Jong "Haksal" Kim.
Haksal is a better Doomfist in nearly every metric except deaths. Sinatraa dies the least among all Doomfists, but that may hamper his ability to do critical damage during fights. Haksal ranks first in damage dealt and final blows per 10 minutes and is an incredibly consistent force on Doomfist. Sinatraa has had his moments of glory (see: Temple of Anubis against NYXL in the playoffs), but is a bit too streaky on the most important hero in the meta right now. The Reaper players are close, but Vancouver definitely has the edge in the Doomfist matchup—and thus the damage matchup as a whole.
Tank
Neither damage player is going to get much done without the tanks holding the line, and this meta is pretty set as far as tank play goes, with Orisa and Sigma picked 95.7 and 98 percent of the time, respectively. Vancouver has retooled its tank line for the playoffs, sending Sang-Beom "Bumper" Park to the bench and bringing in Jang-Hyun "Tizi" Hwang to play Orisa. Tizi's Orisa has been very good, but Myeong-Hwan "Smurf" Yoo, also coming off the bench, has simply worked better with his tank counterpart to set up the all-important Halt! and Accretion combination. Smurf has quietly become one of the best Orisa players in the league.
The Sigma stats can be a little misleading. Hyun-Woo "Jjanu" Choi out-ranks Hyo-Bin "Choihyobin" Choi in nearly every stat, except when it comes to Accretion eliminations. Choihyobin has been a stellar player for San Francisco in every meta, and his ability to combo Sigma's abilities with Smurf's Orisa abilities has won fights for the Shock. Overall, I'm more confident in the Shock's tank line to make plays.
Support
Much like the tank heroes, the support lines haven't had to flex onto many heroes themselves. With pick rates of 78 and 76 percent, respectively, we are firmly in a Moira and Lúcio support meta.
The Lúcio for the Shock, Grant "Moth" Espe, could've easily been an MVP candidate, and leads all Overwatch League players in time played this season. He plays smart, sees the openings his team needs to exploit, and makes plays. Seong-Jun "Slime" Kim is statistically better at nearly every Lúcio stat; he does his job and rarely dies. These two are dead even when it comes to Lúcio play.
The difference in support lines, surprisingly, comes from the play of Min-Ki "Viol2t" Park's Moira. Viol2t is ranked first or second in every significant statistical category on Moira, and where he isn't first, Vancouver's Ju-Seok "Twilight" Lee is. Viol2t was a question mark for many going into the playoffs, as we'd seen him play largely on Zenyatta for most of the season. His Moira is a big factor in why San Francisco can bring back fights from the brink. If the Vancouver support line wants to step up, they must limit Twilight's deaths, as he ranks fifth compared to Viol2t's rank at first.
It's close, like any championship matchup should be. While Vancouver has the advantage in the damage matchup, the Shock have the edge in the tank and support lines.
X-FACTORS
Shock
There are a few X-factors which might shake things up for this matchup. Most notably, San Francisco has built this team to have an extraordinary amount of depth. Throughout the playoffs we often saw Min-Ho "Architect" Park and Dong-Jun "Rascal" Kim sub in on specific maps. This allows San Francisco to tailor map strategy to their roster strengths and potentially surprise Vancouver. It is entirely possible to see Architect and Rascal come in to play Bastion and Baptiste, while Rascal can also hop on Pharah and Mei. The Shock have innumerable options when it comes to compositions.
Titans
The downside of bringing in Rascal to sub in for Sinatraa is that it often telegraphs the composition San Francisco wants to run. Rascal on Rialto would be a dead giveaway that they want to run some variation of Pharah or Mei. The Titans don't make substitutions, relying on Haksal to play whatever hero is needed. And that is the strength of the Titans—they have longevity as a team that predates the Overwatch League. They are battle-tested, they have won together consistently, and they trust each other. In short, the Titans know how to win, they don't get fazed, and come up clutch when they need to.
WIN CONDITIONS
Shock
The Shock rely on playmakers from the support line to the tank role, and then of course up front with their damage dealers. I think we know exactly what we'll get out of Moth and Viol2t, but the questions remain for Choihyobin and Sinatraa. Choihyobin, on the Sigma role, needs to get value out of his ultimates and Accretions. He has the ability to turn fights. Which Sinatraa will we see? The tentative Sinatraa who doesn't die much but also doesn't do much, or the in-the-zone, nothing-but-net Sinatraa we saw against the NYXL? This is a key in early maps.
Titans
Vancouver is a team with a strong mental game. They've been in championship matches before, but not at the Overwatch League level, and not in a stadium as packed as Wells Fargo Center will be. Calming nerves and winning early maps is going to be key for Vancouver. Their win condition is twofold: study and adapt. Because Vancouver doesn't make many in-game roster swaps, they need to know what San Francisco is going to do, and there is plenty of film on the Shock. Second, they need to know when to adapt, something even the top Overwatch League teams can fail at sometimes. In short, they need leadership in order to win, because it is doubtful the Shock won't show them something new.
Both of these teams have star-studded rosters and a recent history of success. It's going to come down to a few small plays throughout the course of the match to decide the champion of the 2019 Overwatch League season.
The 2019 Overwatch League Grand Finals takes place Sept. 29 at Wells Fargo Center in Philadelphia and will air live on ABC and be livestreamed on Twitch, overwatchleague.com, and the Overwatch League app. Get the latest Grand Finals news and information here, and sign up for league newsletter updates here.
By Robert "Hexagrams" Kirkbride