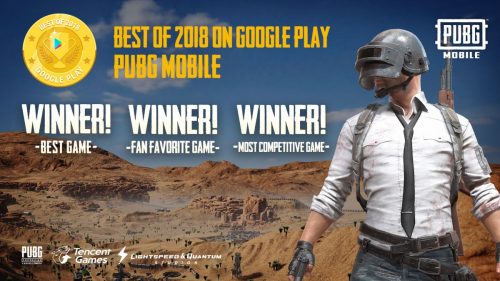 PUBG MOBILE , developed by Tencent Games and PUBG Corporation, recently collected three Google Play Awards, an unprecedented mark for this year's hit battle royale mobile game. PUBG MOBILE was awarded "Best Game," "Fan Favorite Game" and "Most Competitive Game." Check out the full list of winners here and the official Google Play blog post here.
Continuing to build off momentum since launching earlier this year, PUBG MOBILE has now surpassed 200 million downloads* and reached a colossal milestone of 30 million daily active users (excluding China). Both momentous breakthroughs arrive just eight months after PUBG MOBILE's launch, where the game rose to the top of the gaming charts in 105 countries within the first week.
PUBG MOBILE was also recognized by the App Store earlier. The game was included in Apple's "Game Trend of the Year" category representing the explosive battle royale genre and in its "Top Games Charts of 2018" as one of the most downloaded games. Read more about the full list of App Store awards categories here.
Also, PUBG MOBILE won chicken dinners at 2018 GOLDEN JOYSTICK AWARDS, winning in "t he Mobile Game of the Year." Released on iOS and Android devices earlier this year, PUBG MOBILE broke through the charts to become one of the world's most popular mobile games. And PUBG MOBILE was also present at The Game Awards last week, where it was nominated for "Mobile Game of the Year."
"The team is honored and thrilled that PUBG MOBILE has been recognized by World Class Awards," said Tencent and PUBG Corp. "The response to the game from fans has energized everyone at the team as we are heads down working on new, exciting updates and contents for PUBG MOBILE."
PUBG MOBILE is available to download for free on the App Store and Google Play.
PUBG MOBILE is based on PlayerUnknown's Battlegrounds, the original battle royale PC and Xbox One phenomenon that took the world of interactive entertainment by storm in 2017. Up to 100 players parachute onto a remote 8×8 km island to do battle in a winner-takes-all showdown. Players must locate and scavenge their own weapons, vehicles, and supplies, and defeat every player in a visually and tactically rich battleground that forces players into a shrinking play zone.