Are you ready to duel? The official 1v1 League of Legends (LoL) tournament for players around the world, Red Bull Solo Q, starts online this spring! Last year, the competition – branded as Red Bull Player One – saw 25,000 registrants from 29 countries battling for the title. This season, the community can expect over 35 National Qualifiers & Finals, International Online Qualifiers and new tournament stages. Is the winner of last year's edition, Jumong, up to defend his title? The UK Final will take place on October 3rd, with Online Qualifiers beginning on June 13th.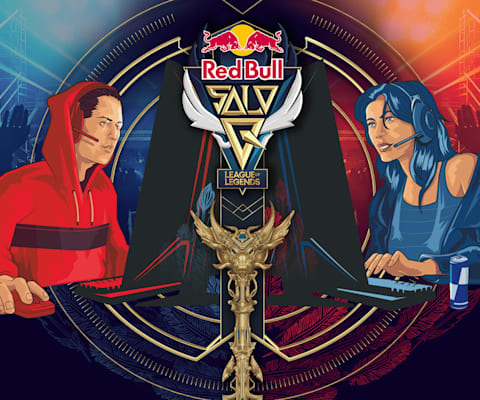 Red Bull Solo Q puts a twist on a typical League of Legends match, pitting player against player in a bracket of 1v1 duels. The first player to earn 'First blood!', destroy the opponents´ tower or reach a 100-minion score wins the duel. National winners will proceed to the Regional Finals or directly to the Red Bull Solo Q World Finals. Additional International Online Qualifiers as well as a Last-Chance Qualifier will also be held to provide a truly accessible esports experience.
As part of the partnership with League of Legends Global Esports Events, the winner of Red Bull Solo Q will get to experience the 2020 League of Legends All-Star Event firsthand! The champion will participate in the League's annual year-end celebration alongside some of the game's biggest esports athletes and streaming personalities, playing in special showcases and attending exclusive parties.
Red Bull also continues their collaboration with one of the most popular faces in the League of Legends community: sjokz, who will return as the global brand ambassador for Red Bull Solo Q. Last year, she was live on stage for the National Finals in Germany, Japan and the United Kingdom – and even cast some games. This year, she will be involved with the European Regional Finals as well as the World Finals. Top athletes and many more well-known faces from the LoL scene will also make special appearances throughout the tournament.
The International Online Qualifiers are already open for registration. The first Red Bull Solo Q tournament will start with online qualifiers for Ireland on April 16, with more countries rolling out their tournaments in the weeks to follow. Visit redbull.com/soloq for more information, including format and rules & eligibility, and additional announcements
The full schedule for Red Bull Solo Queue in the UK:
13/6 Online Qualifier 1 – 2 players qualify (winner & runner up)
20/6 Online Qualifier 2 – 2 players qualify (winner & runner up)
27/6 Online Qualifier 3 – 2 players qualify (winner & runner up)
26/9 NUEL Only Qualifier – 1 player qualify (winner)
2/10 Last chance qualifier – 1 player qualify (winner)
3/10 – National Final – Top 8 players (winner qualifies for World Final)