Video games have been prevalent in contemporary culture for decades. Given the sheer number of players (more than 166 million Americans, according to a 2018 Entertainment Software Association survey) and the amount of revenue created ($134.9 billion in 2018), video games exert a huge impact on contemporary life. Visual artists are gamers too—as immersed in video game culture as anyone else—yet video games have rarely been examined as a major influence on contemporary art. Open World: Video Games & Contemporary Art will present the work of artists who use video games as a catalyst for making art that addresses timely issues including gun violence, migration and gender equality. The artworks in Open World reference a broad cross section of games, ranging from early text adventure and arcade games to more recent releases such as World of Warcraft and Grand Theft Auto. The exhibition opens with a celebration on Saturday, October 19, 2019 from 11:00 A.M. to 2:00 P.M.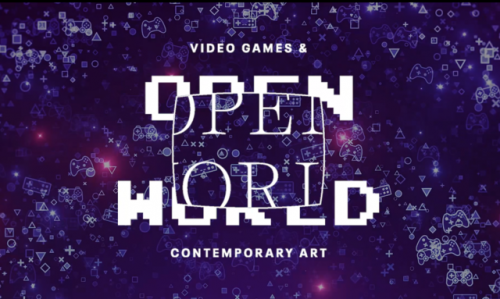 Curator of Exhibitions Theresa Bembnister said, "The artists in Open World reference some of the most beloved video game franchises including Super Mario Bros., Pokémon and The Legend of Zelda. Their work draws attention to the rich opportunities video games offer for creative expression."
Open World, organized by Bembnister for the Akron Art Museum, presents the work of 23 national and international artists. The exhibition's title refers to open-world video games, which allow a player to roam through a virtual world, freely selecting their objectives. In addition to traditional media, such as painting, drawing and sculpture, the exhibition will also highlight textiles, prints, animation, video games, video game modifications and game-based performances and interventions by makers who self-identify as artists.
Bembnister said, "Although all of the artists in Open World are influenced by video games, the artwork they make is about more than gaming culture. The artists tackle topics crucial to contemporary life, including the role of consumer products in shaping personal identity and technology's ability to create credible—yet false—imagery. Some use their artwork as a platform to advocate for justice for marginalized people."
Open World features an immersive installation with interactive artworks. The quiet, introspective game The Night Journey (2007-18), created by Bill Viola in conjunction with the USC Game Innovation Lab, mimics the process of achieving spiritual enlightenment, while Feng Mengbo's energetic side-scrolling platformer Long March: Restart (2008) loosely recounts a significant event in Chinese history through 8-bit graphics. Retro gamers will enjoy Cory Arcangel's I Shot Andy Warhol (2002), a modification of the 1984 Nintendo Entertainment System game Hogan's Alley. Skinsuits, a newly commissioned virtual reality experience by artist Rachel Rossin, will be unveiled to the public as part of Open World.
Artists included in the exhibition are: Ueli Alder (Hemberg, Switzerland), Cory Arcangel (New York), Alan Butler (Dublin), JooYoung Choi (Houston), Joseph DeLappe (Dundee, Scotland), Krista Hoefle (South Bend, IN), Invader (Paris), Butt Johnson (New York), Angelo Ray Martínez (South Bend, IN), Michael Menchaca (San Antonio), Feng Mengbo (Beijing), Joan Pamboukes (New York), Oliver Payne (Los Angeles), Tim Portlock (St. Louis), Tabor Robak (New York), Rachel Rossin (New York), Jacolby Satterwhite (New York), Skawennati (Montreal), Suzanne Treister (London), Nathan Vincent (Los Angeles), Bill Viola (Long Beach, CA), Angela Washko (Pittsburgh) and Mathew Zefeldt (Minneapolis).
Opening Celebration
On Saturday, October 19, from 11:00 A.M. to 2:00 P.M. the museum will host the exhibition's opening celebration, featuring curator-led tours, photo opportunities with Rubber City Cosplay and complimentary treats in the café. Museum members receive complimentary admission. Nonmember admission is $12. Registration is requested and will be available soon at akronartmuseum.org/calendar.
Travelling
Open World will be on view at the Akron Art Museum through February 2, 2020, and will travel to the Currier Museum of Art in Manchester, New Hampshire (March 21 – June 28, 2020), followed by the San José Museum of Art (September 10, 2020 – January 10, 2021). It is the largest exhibition organized by the Akron Art Museum to travel since El Anatsui: Gravity and Grace in 2012.
Catalog
Bembnister edited a 96-page, hardbound, full-color, fully illustrated catalog to accompany Open World. The catalog features essays by Bembnister as well video game historian Andrew Williams and feminist game scholar Samantha Blackmon. It will be available for purchase ($30) in the museum shop.
Open World Arcade
As a compliment to the exhibition, the Akron Art Museum will host a day-long indie game event on Saturday, December 7, 2019 from 11:00 A.M. to 5:00 P.M. The video games that inspired Open World artists will be available to play. Visitors can explore a showcase of indie tabletop and video games juried by Tracey Fullerton, designer of the multi-award-winning game Walden and director of the joint University of Southern California Games Program. The jurying panel also includes J. Collins, a computer science teacher at Hathaway Brown and games policy expert, along with Open World artists Angelo Ray Martínez and Angela Washko. Visitors will be able to meet Open World Arcade game designers during the event as well. Registration for Open World Arcade is required. Member tickets are $10; nonmember tickets are $24; children 12 and under are free. Tickets will be available soon at akronartmuseum.org/calendar.
About the Akron Art Museum
The Akron Art Museum, dedicated to enriching lives through modern and contemporary art, showcases regional, national and international art created since 1850. The museum's collection is presented in a spectacular facility designed by Viennese architectural firm Coop Himmelb(l)au and includes over 5,000 works of art, with a strong focus on contemporary painting, sculpture and photography. Nearly a dozen exhibitions each year present prominent artists in various media including painting, sculpture, photography, video, design and glass.
In addition to its ever-changing collection and exhibitions, the museum offers many opportunities to Live Creative through programs that include films and video, lectures, workshops, tours and concerts.
Museum Information
Address: One South High, Akron, OH 44308
Tel: 330.376.9185
Fax: 330.376.1180
Website: AkronArtMuseum.org
Gallery, Shop and Café Hours: Tuesday – Sunday: 11 am – 5 pm, Thursday: 11 am – 9 pm, Closed Mondays and most major holidays
Bud and Susie Rogers Garden Hours: Monday – Friday: 9 am – 6 pm, Saturday and Sunday: 10 am – 5 pm (weather permitting)
Library Hours: By Appointment
Admission: Adult general admission is $12, Senior (65+) general admission is $10, Student (with valid ID) $8, Children (17 and under) are FREE, members are FREE, University of Akron students, faculty and staff with valid Zip Card are FREE, Adult with Ohio EBT card $3 (discount available for up to 4 adults per EBT card). Gallery admission is FREE every Thursday.