The British Esports Association and Duchenne UK have collaborated to deliver an event for young people living with muscular dystrophy in the UK.
The competition – which took place during September – tasked entrants to design their perfect holiday using Minecraft. A large number of entrants took part and the standard of building was phenomenal.
The Duchenne UK team had a real challenge to pick the winners but have listed the top three winners from each age group.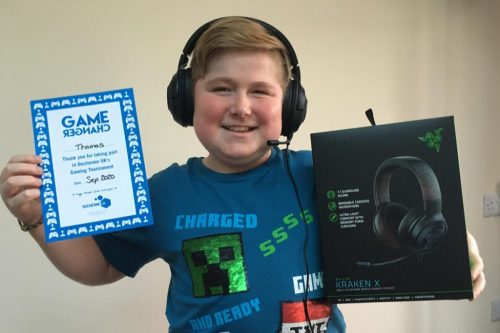 First place from each group won a Razer Kraken X headset, as donated by tournament hosts Revolution Esports.
Under 11 winners
Stanley, age 9
Blake, age 10
James, age 8
11-16 winners
Thomas, age 13
Jack, age 12
George, age 12
Duchenne UK co-founder Alex Johnson said: "We want to thank the British Esports Association for helping Duchenne UK to connect young people living with Duchenne muscular dystrophy and providing a safe and enjoyable place for gamers to come and enjoy playing online tournaments."
The father of Thomas, the winner of the 11-16 category, added: "Thank you for organizing the tournament – it was lovely to know that all these youngsters who took part have been made to feel special.
"Despite their own unique problems and circumstances, they had a safe Minecraft place they could go to, and despite not knowing each other, every player shared a common bond."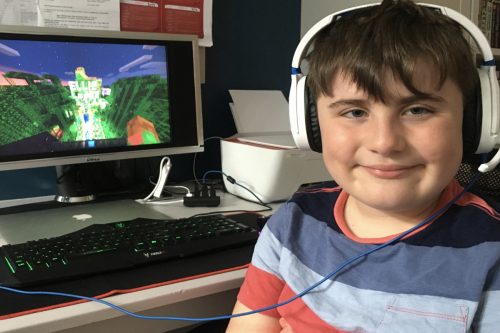 Thomas added: "I cannot even believe that I have won, I don't normally win things like this, plus everyone else's builds looked amazing. So thank you so very much!"
Stanley (pictured below), who won the under 11s category, commented: "I love animals and so my perfect holiday would be a safari. I built a luxurious treehouse lodge and safari park as this is something I'd love. It took a long time to build, but I really enjoyed making it."
David Martin, head of strategy at the British Esports Association, commented: "We are delighted to support charities that are looking to use esports and gaming to engage in these challenging times.
"This tournament shows the dedication of all at Duchenne UK to support young people living with muscular dystrophy to make the most of esports and gaming, and we would also like to thank Adam and the team at Revolution Esports for their support in making this happen."
About the British Esports Association  
The British Esports Association is a not-for-profit organization established in 2016 to support and promote esports in the UK.
As a national body, its aims are to foster future British talent, increase the awareness of esports and provide expertise and advice. It's focused on the grassroots level of esports and is not a governing body.
The Association helps educate the masses – including parents, teachers, media and government – around what esports is and what its benefits are. Its three goals are to Promote, Improve and Inspire.
About Duchenne UK
Duchenne Muscular Dystrophy (DMD) is a devastating muscle-wasting disease. It is the most common and severe form of Muscular Dystrophy. Diagnosed in childhood, it mainly affects boys. There is currently no cure.
Started by families affected by the disease, Duchenne UK has one clear aim – to end Duchenne. It's doing this by funding research that's focused on getting treatments to those affected now, as well as pushing for an effective treatment in the future.