The days are getting colder, but the battles are heating up in World of Tanks: Mercenaries this November and December. The dev team from Wargaming West have been working hard to deliver more content than ever to passionate tankers across the globe until the end of the year. The release of Update 4.12 on November 26, is followed by some amazing new limited edition tanks and Black Friday sales, while November is closing with the tradition of T(h)anksgiving once again celebrated in-game with Turkey Treats.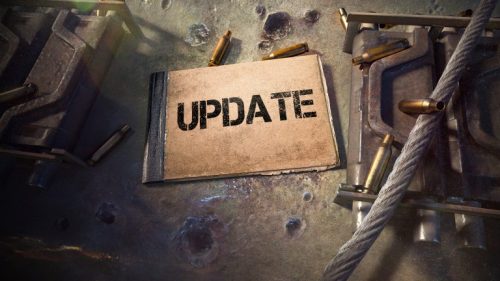 Update 4.12 features the usual bugs fixes and tank & matchmaker enhancements, fixes the high calibre medal, and includes a game mode selector if a limited time game mode is available.
Black Friday is here, and if you're not too busy jousting shoppers for a new TV, check out the explosive bargains in our in-game Store, as well as the PlayStation and Microsoft Store! Get up to a massive 30% off Tier X tanks, save up to 50% on yearly Premium time, or get 25% off on silver to gold exchanges. Looking for something specific? Check out the Premium Tech Tree, which has nearly every tank ever available for a limited time with a 30% discount. There are even more discounts coming on Cyber Monday, so don't miss out!
Players logging in during T(h)anksgiving weekend will receive five times XP in their first match, while on Cyber Monday they'll receive 25% more Silver and XP all day long.
Elsewhere in World of Tanks: Mercenaries, we welcomed a bombastic new trio of Limited edition tanks to the game. Available individually from November 29 – December 2, get to know this ragtag bunch of misfits:
Ragnarok T-34-100 – the console exclusive Tier XIII Medium tank from Czechoslovakia rolls out with a fully stabilized 100 mm autoloader, boosting the firepower of a traditional T-34 significantly.
Hydra IS-6 – this console exclusive USSR Tier XIII Heavy tank built for damage with the very powerful BL-13 gun, dealing 440 damage a shot with excellent penetration values.
Minotaur KV-5 – this console exclusive USSR Tier XIII Heavy tank is equipped with the Zis-24 gun, making it capable of punching through thick armor.
December won't be less diversified, as the famous real-time strategy Tank Commander mode will return from 10–16 December and the beloved Winter Toy tank mode will return for free to PlayStation and Xbox players to end the year in style.
Fans of real-time strategy games will love one of the players most favourited modes to return in World of Tanks: Mercenaries. The Tank Commander Mode, which is an RTS mode still exclusive to consoles. Players can take command of nine tanks with a strategic, birds-eye view of the battlefield as the Commander. Give single tanks direct orders to flank and outwit your enemies or send groups into the fray en masse for a heavy-handed cavalry attack! You can also assume the role of the Tanker and, alongside a team of five other players, work together to bring down the powerful Commander.
Finally, the beloved and awesome Toy Tank Mode returns in time for the Winter holidays and days off with the family. Enjoy the ride with your very own toy tank to guide through various obstacles to fight other tank commanders in this festive mode..
Cyber Monday details can be found here:
https://console.worldoftanks.com/monday-madness-cyber-monday/
Black Friday details can be found here:
https://console.worldoftanks.com/black-friday-sales/
Details on the Limited Edition Tanks can be found here:
https://console.worldoftanks.com/the-elite-enter-the-fight/
About World of Tanks: Mercenaries
World of Tanks: Mercenaries is a team-based massively multiplayer online action game dedicated to armored combat, created by Wargaming West in Chicago, USA. Players immerse themselves in fierce 15-v-15 tank combat with opponents from around the world, fight it out on more than 90 different maps, and take command of their preferred vehicle out of over 740 tanks from 11 different nations.
World of Tanks: Mercenaries is played by more than 18 million players worldwide and is available on all generations of PlayStation®4, Xbox One, and Xbox 360. World of Tanks: Mercenaries can be downloaded for free by all PlayStation Network and Xbox Live account holders, with stunning 4K resolution and HDR support on PlayStation®4 Pro and Xbox One X. The epic, story-driven campaign mode War Stories can also be played for free, with regular episodic stories giving players the chance to rewrite history in immersive single-player and co-operative battles.
Official website:
http://console.worldoftanks.com