Formula 1®, the pinnacle of motorsport, is accelerating towards the start of the 2019 Formula 1 New Balance Esports Pro Series. Following a hard-fought selection process, the world's most skilled esports drivers representing the ten official F1 Esports teams have been announced*.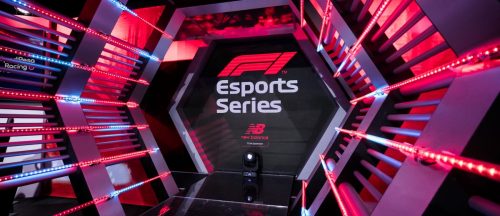 Alfa Romeo Racing F1 Esports
Dani Bereznay, Hungary
Kimmy Larsson, Sweden
Salih Saltunç, United Kingdom
Ferrari Driver Academy
David Tonizza, Italy
Amos Laurito, Italy
Gianfranco Giglioli, Italy
Haas F1 Team Esports
Floris Wijers, Netherlands
Jan Fehler, Germany
Martin Štefanko, Czech Republic
McLaren Shadow
Enzo Bonito, Italy
Bono Huism Netherlands
Allert van der Wal, Netherlands
Mercedes-AMG Petronas Esports
Brendon Leigh, United Kingdom
Patryk Krutyj, Poland
Daniel Shields, Australia
SportPesa Racing Point F1 Esports Team
Daniele Haddad, Italy
Marcel Kiefer, Germany
Lucas Blakely, United Kingdom
Red Bull Racing Esports
Frederik Rasmussen, Denmark
Joni Törmälä, Finland
Nicolas Longuet, France
Renault Sport Team Vitality
Jarno Opmeer, Netherlands
Cedric Thomé, Germany
Simon Weigang, Germany
Scuderia Toro Rosso Esports
Patrik Holzmann, Germany
Cem Bölükbaşı, Turkey
Manuel Biancolilla, Italy
Williams Esports
Álvaro Carretón, Spain
Tino Naukkarinen Finland
Isaac Price, United Kingdom
*All racers pending confirmation of speed eligibility test
The Series will welcome back some of the most respected online racers within the industry. The line- up includes the yet-to-be-defeated, two-time F1 Esports Series champion Brendon Leigh. As well as sim racing star Enzo Bonito who outpaced professional racing drivers earlier in the year driving a real- life racing car at the 2019 Race of Champions.
They will join some new faces such as Ferrari Driver Academy's first-ever esports draft pick, David Tonizza and Racing Point's Lucas Blakeley from the UK. They will now battle it out for the title of this year's F1 Esports Series Teams' and Drivers' World Champions on F1 2019, the official F1 videogame developed by Codemasters.
With Ferrari Driver Academy making their debut in esports and in the Pro Series for the first time, this year is set to feature even more adrenaline-fuelled action with a full grid represented in the virtual championship. Now taking place over a series of four live shows at London's Gfinity Esports Arena, they will go head to head for a highly coveted $500,000 prize fund – more than double that of last year – on September 11th, October 2nd, November 6th and culminating in the Grand Final on December 4th.
Bringing the excitement and exhilaration of Formula 1 to a new generation of fans across the globe, all four live events will be streamed online between 19:00 – 21:00 (BST) on Facebook, YouTube, and Twitch. As well as broadcast on global television by broadcast partners such as Sky UK, Ziggo (Netherlands), MTV (Finland) and Fox Australia, among others.
In addition, Formula 1 has officially signed a deal with Huya, one of China's largest live streaming platforms, to broadcast the Pro Series content live in China, marking an expansion of the Series' reach and presence in one of the world's leading esports nations. Last month, in partnership with Juss Intellisports, Formula 1 also launched the F1 Esports Series China Championship to identify F1's first ever Chinese esports qualifiers to enter the 2020 Pro Draft.
The Pro Series is the exciting climax of the 2019 Formula 1 New Balance Esports Series, which saw a record-breaking 109,000 gamers from across the globe compete in this year's qualification stages. Ten of the most talented gamers were selected at the Pro Draft in July  to drive alongside established racers and join one of the ten official F1 Esports teams.
The 2019 F1 New Balance Esports Pro Series will also follow the FIA Formula 1 World Championship rule change, to award the driver of the race fastest lap a point, and DHL will once again reward the driver who will collect most fastest laps with a special prize.
With significant increase in interest of the F1 New Balance Esports Series, and for those who missed out this year, qualifying rounds for the 2020 Series have launched early for the very first time. Now officially open and running until the end of the calendar year, anyone with a copy of F1 2019, the official F1 videogame developed by Codemasters can take part. The qualifications are open globally and there are three qualifying rounds left.
Don't miss the first Live Event of the 2019 Pro Series, which gets under way on Wednesday, September 11.
Watch live video from formula1 on www.twitch.tv