Blizzard Entertainment
The 2019 Arena World Championship Summer Finals is nearly here. Teams from all across America and Europe have battled over two seasons for their chance to qualify for the AWC Global Finals—an event every top Arena competitor aspires to attend. There are only two ways to qualify at this point in the year, being the first AWC Point earner from your region or placing first or second at the Summer Finals.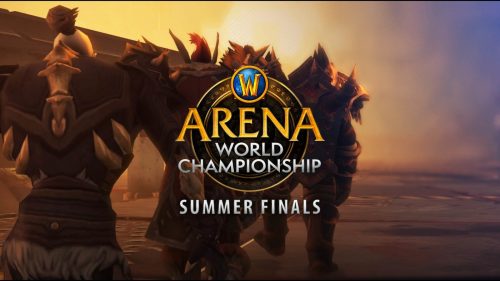 Everything these teams have worked for all comes down to this event and the points they've earned in the Summer Season will award them seeding into the following bracket. MeowMeowKittyCatz, Method Orange, Diabolus, Team Prismatic (formally Change My Mind), and Wildcard Gaming all require at least a 2nd place finish at the Summer Finals to guarantee a spot at BlizzCon 2019. Every single team entering the tournament is equipped with tournament veterans and even some previous BlizzCon Champions. You won't want to miss this explosive tournament of titans.
Four of the top point earning teams from North America and Europe will converge on Columbus Ohio to compete for $100,000 and—more importantly– the last two qualification spots to the Global Finals at BlizzCon 2019.
The tournament will consist of a double elimination bracket and the winner of the Upper Finals and Lower Finals will qualify to the AWC 2019 Global Finals.
The AWC 2019 Summer Finals will be broadcast on Twitch.tv/Warcraft starting at 10:00 AM PDT, 1:00 PM EDT and 19:00 CEST on September 21 & 22nd.
The first four matches (All times in EDT):
| | | | |
| --- | --- | --- | --- |
| 1:00 PM | M2KC | vs | WILDCARD GAMING |
| 2:00 PM | DIABOLUS | vs | THE GOSU CREW |
| 3:00 PM | METHOD BLACK | vs | METHOD ORANGE |
| 4:00 PM | CLOUD9 | vs | TEAM PRISMATIC |
Meet the teams
MeowMeowKittyCatz (M2KC)

Coming into the Summer Finals, M2KC is looking extremely strong. With a roster lined up with Jahmilli, Roastyz, Rubcub, and Rositajones—players who have made it to BlizzCon before and have even reached placements at high as 2nd place in the Global Finals—it's no surprise this team was able to reach the 1st Seed from North America. However, this roster is notorious for their inconsistency. Jahmilli, considered one of, if not the most, mechanically skilled player to play the game is unstoppable when he is "playing his game". Any given Champion Sunday, this team will give Twitch chat back to back to back explosive arena matches that surprise everyone with some of the outplays M2KC's Rogue Mage can produce. On the other hand, sometimes they just fall short, especially when running into a composition they struggle with.
Cloud9

Throughout the 2019 Spring Season, Cloud9 has been objectively the best team in North America. By placing first in four out of six online cups and stomping the AWC Spring Finals LAN, they locked in their position at the AWC Global Finals at BlizzCon 2019. No one denied their potential. The Summer Season was different story, however, and their dominance became less convincing even though they constantly placed in the top 4 and won two cups. Regardless of their performance, they still secured the 2nd seed from NA and are widely considered the scariest team to face. We're excited to see how Cloud9 will be approaching the upcoming LAN event.
Method Orange

At the beginning of the year, Method Orange had just returned from BlizzCon 2018 as World Champions. Everyone expected their reign to continue, but just like the 2018 Spring Season, Method Orange seemed distracted. Their first cup performance was lacking, and they weren't able to even make Top 8. Regardless, they were able to gain enough points to qualify for the LAN, just to be quickly knocked out of the Spring Finals losing 0-2. But anyone would be a fool to count this team out—after a similar performance at the beginning of last year, they pulled through and became World Champions during a thrilling final at BlizzCon 2018. No one can deny the potential of this team when they're at their best. The question is, what type of Method Orange will we see at Summer Finals?
The Gosu Crew

The roster of The Boys have been picked up and will be representing the organization The Gosu Crew at this event. This team has been a consistently strong contender in the North American region the entire year, placing second in points. Although they already have a guaranteed BlizzCon 2019 spot, the team is looking to prove themselves after falling short of their standard of performance at the last LAN. The Gosu Crew are striving to be not only a top contender, but the best. Will we see them rise to the challenge and take the win at the Summer Finals?
Method Black

This squad has been a dominating force in the European region all year around, making it to the Grand Final in every single Cup this year. Regardless, Method Black fell short in the Spring Finals, placing 3rd. For a team like Method Black, with their hunger to win, anything but 1st was unacceptable. It was evident in the Summer Cup Season they were taking things seriously after they placed 1st in five of the six cups. Although Method Black have already locked in their BlizzCon 2019 ticket by being the top point earner in Europe, they are more determined than ever to go home as the Summer Champions.
Diabolus

The core of Diabolus, under their previous name ABC, are the 2017 Global Finals Champions. They had a shaky start in the Spring Season but showed off their potential at the Spring Finals, placing 2nd. In the Summer Season, they shook up their roster slightly, changing out Jaime for Wallirikz, who is arguably the best Warlock in Europe. This team wants to show why they earned the title of World Champions and repeat it again. They will have to perform at the same level they did at the 2019 Spring Finals to earn that spot.
Team Prismatic

Team Prismatic, previously known as Change My Mind, have been consistent performers in online Cups. The team's main composition was Rogue/Mage/Druid and showed huge potential. Unfortunately, their mage Friedkitteh was unable to make it to the Spring Finals. Everyone counted them out with them being down a player, but they showed to the LAN causing a handful of upsets and placing 4th at the event. Coming into the Summer Finals with their full squad, we're excited to see how they perform.
Wildcard Gaming

The core of this team has been competing together since the beginning of 2018, swapping out Wallrikz for Maro in 2019. Arguably the best healer in Europe, Loony is also one of the most seasoned—competing at a high level since 2012 and winning the World Championship in 2014. The rest of the roster are also AWC veterans, consistently making it to LANs as one of the favorites. Wildcard Gaming are the second highest point earners in Europe, meaning they need to place 1st or 2nd—or hope that Method Black place 1st or 2nd—at the Summer LAN to earn their seed at BlizzCon 2019. Favoring attrition-based compositions and safe play, experts on the desk always believe this team will win, but they've fallen short for years. Is this the year they rise to their potential?
Inspect Tool
For those of you who have been following the AWC all year long, you're likely familiar with the Twitch Inspect Extension. If you're new to the show, this tool allows you to inspect your favorite Arena players in real time, just like you would in-game and see the gear, talents, Azerite Traits and Essences your favorite players are using. So, if you're spending time in the Arena as you fight for your faction in World of Warcraft: Battle for Azeroth, you now have more reasons than ever to tune in and find out just how the pros dominate their foes.
Watch live video from Warcraft on www.twitch.tv