At BlizzCon® 2019, Blizzard Entertainment welcomed players from around the globe and millions of viewers online to cheer on some of the world's best esports competitors and be among the first to experience new installments in the Overwatch® and Diablo® franchises, the upcoming expansions for World of Warcraft® and Hearthstone®, the Warcraft® III: Reforged beta, and the newest additions to StarCraft® II and Heroes of the Storm®. During an entertainment-filled weekend running November 1 and 2, more than 40,000 attendees from 59 countries gathered at the Anaheim Convention Center to meet their fellow players, watch esports tournaments unfold live, and learn about upcoming games and updates for Blizzard's franchises.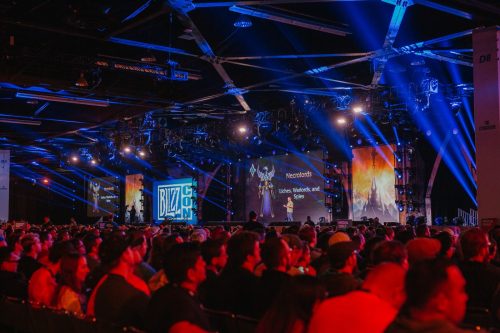 Attendees and online viewers got to witness the conclusions of five of Blizzard's esports competitions.
Overwatch World Cup Winning team: USA
There's a new champ in town and it's the United States. The USA defeated China 3-0 in the gold-medal match to win the top prize, but the bigger victory was over three-time champion South Korea in the semifinals. The United States' Jay "Sinatraa" Won was named the T-Mobile™ MVP of the tournament. In the bronze-medal match, South Korea eliminated France.
Hearthstone Grandmasters Global Finals Winner: Xiaomeng "VKLiooon" Li
The first-ever Hearthstone Grandmasters Global Finals champion is China's VKLiooon. VKLiooon handily eliminated USA's Brian "bloodyface" Eason 3-0 in the final in the best-of-five series, becoming the first woman to both compete in and win a Hearthstone championship event.
World of Warcraft Mythic Dungeon International Winning team: Method EU
After surviving a six-team double-elimination bracket, Method EU swept Method NA 3-0 in the final to secure the Mythic Dungeon International victory. Method EU lost earlier in the tournament to Method NA, but the squad of Gingi, Meeres, Fragnance, Naowh, and Zaelia managed to bounce back and exact their revenge in the final.
World of Warcraft Arena World Championship Winning team: Method Black
Method Black outlasted Wildcard Gaming in a thriller to win the World of Warcraft Arena World Championship. After losing at the Summer Finals, Method Black's roster of Whaazz, Raiku, Chas, and Swapxy proved their talent, winning the best-of-seven series 4-3.
StarCraft II World Championship Series Global Finals Winner: Park "Dark" Ryung Woo
After coming up short in the title match just three years ago at BlizzCon, Dark was finally able to capture his first StarCraft II World Championship Series trophy. The Korean defeated Italy's Riccardo "Reynor" Romiti 4-1 in the best-of-seven final.
These championship winners served as an epic conclusion to the BlizzCon festivities, which featured some of the biggest announcements in the show's history:
Diablo IV
Overwatch 2
World of Warcraft: Shadowlands™
Hearthstone
StarCraft II
Warcraft III: Reforged
Heroes of the Storm
Diablo: Immortal™