Farming Simulator 22 will be the main theme of this year's FarmCon: The online event by publisher and developer GIANTS Software will be streamed from July 21st to July 23rd on the company's official Twitch channel and provide a variety of insights into the game and its technology. Everyone is invited to watch the free stream and take an in-depth look at the new instalment of the series coming in Q4 this year.
Farming Simulator 22 will include various new gameplay features and technical improvements to be presented at FarmCon 21. Viewers will learn more about the addition of seasonal cycles, new maps, general improvements as well as a multitude of other additions to be announced during the three-day online event.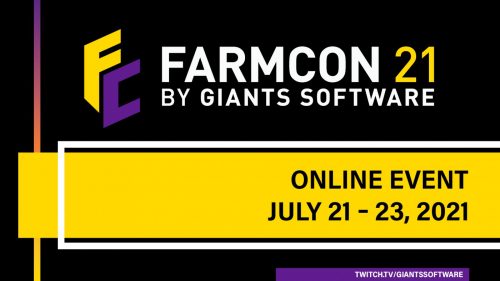 Interviews with developers and partners, raffles, Q&As and more will be broadcasted several hours over the course of three days. Additionally, fans will have the chance to chat with the developers directly in special Discord channels for the event.
FarmCon 21 starts Wednesday, July 21st and concludes on Friday, July 23rd – right before Season 3 of the Farming Simulator League continues on July 24th and 25th. The schedule and further details of the online event will be announced soon.
FarmCon is the official and annual community event for modders, developers and players of the Farming Simulator series. Since 2016, fans can meet at FarmCon to chat with GIANTS Software and other players. For more information, please visit the official Farming Simulator website