FACEIT, the world's leading platform for competitive online gaming and premier esports organization BIG are pleased to announce the GoBIG League, a new CS:GO program for players in Germany, Switzerland and Austria on FACEIT. The region-exclusive program gives the community a new and unique competitive experience, and the chance to join a level-based hub environment and play with like minded players in a closed and fully moderated environment. The highest tier of the competition will be directly connected to the EU FPL circuit.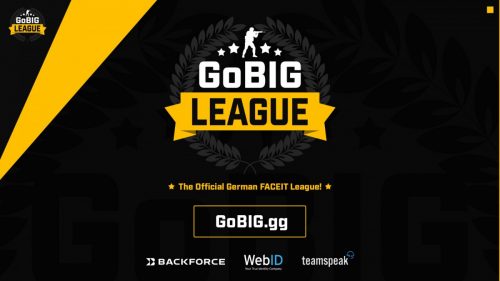 The program will feature four in-house leagues built on FACEIT Hubs where players of four different skill levels will play in monthly competitions. The Hubs are structured to ensure players from all skill levels, from grassroots through to semi-professional and professional players have a first-class competitive experience and get the chance to improve and win prizes.
Partners of the GoBIG League will benefit from the various promotional capacities of the league, bolstered  by  the  brand  and  reach  of  BIG  and its players, who will be actively participating in a variety of events in the hub such as streamed community games. The consistent growth of  the league will be ensured by multiple streamers, professional players, and influencers who will be competing in, and promoting, the league.
Each month, through the top league of the BIG program, the top eight players will get the chance to play into the qualifier for the  FPL Challenger, a step closer to treading the path that has seen some of the world's best players shine and compete in the professional CS:GO circuit, including the rise of BIG's own Nils "k1to" Gruhn. Furthermore, BIG fans will also have the opportunity to join and play inside the BIG Clan, a new FACEIT feature in closed beta that makes it easy to find other players within the same community to play in the FACEIT matchmaking system.
"This partnership is a fantastic example of how brands and esports organizations can leverage the FACEIT platform tools to connect and engage more with players and fans by providing unique and fresh propositions based on PLAY. BIG is an organization that has been particularly successful within the CS:GO ecosystem and we're looking forward to working on this project together, fully aligned on bringing to the community something new and special," said Cristian Duca, Partnerships Manager, FACEIT.
"For us at BIG, reinvesting in the DACH scene and helping nurture future talent has been part of our mission since our formation. Through the GoBIG League, we will be able to encourage proper and sustainable competition by investing in the platform and regularly giving away valuable incentives and prizes," said Christian Chmiel, Head of Partnerships, BIG.
For more information on BIG, please visit www.bigclan.gg