Guild Esports announces the signing of European leading Rocket League content creator Dawson "D7RL" Berbuntes, which continues to strengthen Guild's Rocket League offering.
After the professional team's recent RLCS European victory, Guild has diversified its entertainment offering with a French-language creator; launching in partnership with Subway, Guild has ensured it will continue to create authentic content and support local-market creators all around the world.
At 20 years old, ex-professional player D7RL has established himself as one of Europe's biggest Rocket League content creators. After playing three years professionally, D7RL turned his focus to content creation and has since seen incredible growth. He has over 350,000 combined followers across Twitch, YouTube, TikTok, Instagram & Twitter, and has grown over 40% since January 2021.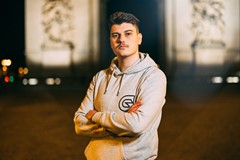 D7RL's largest concentration of fans is on his YouTube channel, where he has over 173,000 subscribers and has amassed an incredible 6.3 million views in the last 30 days alone, which is a 42% increase month on month.
The signing of D7RL follows a string of other creator signings designed to bring Guild fans the very best entertainment, including Nihachu, Snowmixy, Stevie White, Gee Nelly, TN25 & SoMarcus.
Carleton Curtis, Executive Chairman of Guild Esports, said: "I'm incredibly proud to welcome the first French-language content creator to Guild. It is imperative that we are able to provide authentic content to audiences in a manner that resonates with them. D7RL allows us to do this to the French-speaking community and we are excited about the content we'll be able to create together and expand into this market."
Danny Lopez, Guild's Director of Brand & Content, commented: "D7RL joining the #GuildGang brings us our first creator in France continuing our efforts towards global expansion. D7RL also bolsters up our commitment to providing the best in class Rocket League content, expect to see some collaboration with our pro-team in the near future."
D7RL, said: "It's a great honor to be joining Guild Esports at a time of incredible growth and success, after the professional team's recent win at the Spring European Regional I can't wait to take the Rocket League content to the next level."