During the 13th annual 
IndieCade
 international festival of independent games, top honors were awarded to more than a dozen standout titles from this year's North American event. Hosted by games actor and voiceover artist Sarah Elmaleh and indie games developer Asher Vollmer, the IndieCade awards ceremony took place on the evening of Friday, October 11th at the festival. Among this year's winners recognized for excellence and innovation were Grand Jury Award Winner Dicey Dungeons, as well as a selection of spotlight awards for design, performance, narrative and adaptation; developer and audience choice awards; and honors celebrating overall achievement in independent game development.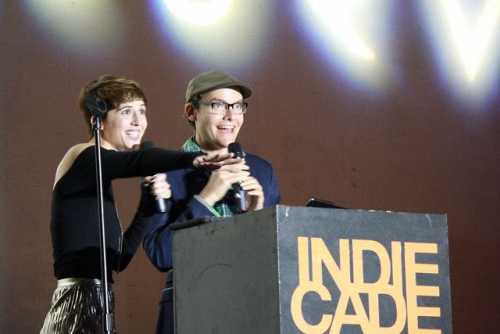 IndieCade 2019 Festival winners include:
The Grand Jury Award: Dicey Dungeons, Terry Cavanagh, Chipzel & Marlowe Dobbe
Top honors at IndieCade 2019 were awarded to Dicey Dungeons, a deckbuilding RPG where players fight monsters, find loot and level up, balancing carefully planned strategies against the chance of dice rolling.
The Jury Prix Award: Grace Bruxner Presents: The Haunted Island, a Frog Detective Game, Grace Bruxner, Thomas Bowker & Dan Golding
Grace Bruxner Presents: The Haunted Island, a Frog Detective Game was honored with the annual Jury Prix Award for titles that stand above the rest through demonstrating excellence in craftsmanship, innovation and design. In this adventure, a renowned frog investigator finds clues and questions suspects to track down a mysterious ghost.
The Innovation in Interaction Design Award: HOT SWAP: All Hands On Deck, Peter Gyory & Clement Zheng
This year's Innovation in Interaction Design Award was presented to HOT SWAP: All Hands On Deck, a two player cooperative arcade survival game were players must swap out and trade inputs on their controllers survive the onslaught of approaching enemy ships. The Innovation in Interactive Design Award celebrates specialized craftsmanship and innovations to engage audiences with games on a new level.
The Innovation in Experience Design Award: Moncage, Dong Zhou Yijia Chen
Honoring craft or design of games that provide a unique, curated experience, Moncage received this year's Innovation in Experience Design Award. In this visual puzzle game, players must rotate a mysterious cube, with each face of the cube displaying a different scene with clues to unravel the secrets of the inner world.
The Performance Award: The Occupation, White Paper Games
The Performance Award honors a game with a unique or particularly sublime performance: voice, motion capture, video, live and more. This year's winner, The Occupation, is a first-person, fixed-time, investigative thriller set in northwest England on October 24, 1987. Players become a journalist in a detailed, systems-driven world where every action counts and time is the biggest enemy.
The Narrative Design Award: Neo Cab, Chance Agency / Fellow Traveller
Neo Cab is an emotional survival game and this year's winner of the Narrative Design Award. Players become the last human driver-for-hire, tasked with choosing passengers and navigating the city grid while balancing emotional wellbeing and star rating. Hold on to humanity in a world overcome by automation, and discover the secrets of the city from the front seat of your cab.
The Adaptation Award: When the Rivers Were Trails, Elizabeth LaPensee & the Indian Land Tenure Foundation
When the Rivers Were Trails was honored with the Adaptation Award for games that examine and interpret using the logic of play and the power of interaction. The educational 2D adventure game follows an Anishinaabeg in the 1890's who is displaced from Fond du Lac in Minnesota to California due to the impact of allotment acts on Indigenous communities.
The Location Based and Live Play Award: Ama's Momento, Awu C., Maryyann L. & Kevin K.
Celebrating games that explore new forms and play and interactive experiences, this year's Location Based and Live Play Award was given to Ama's Momento, a multimedia installation that uses virtual reality for immersive storytelling. Players journey to Taiwan to meet Ama ("Grandmother" in Taiwanese) to learn her personal stories and reconnect with the past.
The Tabletop Award: Inhuman Conditions, Tommy Maranges, Cory O'Brien, & Mackenzie Schubert
This year's Tabletop Award winner is Inhuman Conditions is a five minute, two-player interrogation game inspired by the Turing Test and "Do Androids Dream of Electric Sheep." Through five-minutes of intense, targeted questioning, an Investigator attempts to determine whether the Suspect they're talking to is a human – as they claim – or a robot in hiding.
The Procedural Design Award: Blabyrinth, Sleeping Beast Games
Blabyrinth is a procedurally-generated cooperative escape room for mobile devices and this year's winner of the Procedural Design Award, which honors titles that leverage randomness and algorithmic content to create unique and innovative interactions. In Blabyrinth, players are thrown into a mysterious labyrinth with each level randomly generated, so layout, scenery, puzzles and clues are always different.
The Cooperative Design Award: Tick Tock: A Tale for Two, Other Tales Interactive
Celebrating games that innovate how we play together, Tick Tock: A Tale for Two was honored with this year's Cooperative Design Award. In this narrative adventure, communication skills are put to the test as players must escape a magical clock world filled with secrets and puzzles.
The IndieCade Choice Award: Kroma, Carol Mertz, Kai Karhu, Francesca Carletto-Leon & Temitope Olujobi
The IndieCade Choice Award, voted on by attendees and media, was bestowed upon Kroma, a stylish strategy game in which 2-3 players capture territory by blending colors on top of a custom-made backlit lightboard, resulting in a unique composition of hues and shapes. By layering transparent plastic pieces of cyan, yellow, and magenta, players create a colorful collaborative art piece through competitive play.
The Developers Choice Award: Patrick's Parabox, Patrick Traynor
The IndieCade Developers Choice Award is voted on by nominated IndieCade Festival developers. This year's winner, Patrick's Parabox, is a puzzle game about playing with recursion and infinities by pushing boxes into and out of each other. Each box contains its own 2-dimensional space that other boxes can enter and exit, creating ever deeper layers of boxes-within-boxes. This unique system gives rise to mind-bending puzzles which require a whole new way of thinking.
The Night Games Award: Nightmare Temptation Academy, Lena NW & Costcodreamgurl
This year's Night Games Award went to Nightmare Temptation Academy, a dating-simulation, choose your own adventure, roleplaying game and rap musical. Set in high school in an alternate universe at the end of the world, the game is filled with visual tropes from anime, videogames and early 2000's digital culture to evoke nostalgia and allegorize the uniquely Millennial adolescent experience caused by first-generation internet addiction and media oversaturation.
Additional information on the awards, with full details on all titles showcased is available on the IndieCade website: https://www.indiecade.com/awards/