MSS will begin March 20 and culminate with the first Finals Weekend at the Los Angeles Greek Theatre,
The LCS spring season has sprung. The regular season games are done. And this year, we're shaking things up in the LCS post-season.
The first-ever Mid-Season Showdown (MSS), delivered by Grubhub, will begin this Saturday March 20 at 1pm PT and culminate with the MSS Finals Weekend at the iconic Los Angeles Greek Theatre on April 10-11. For the health and safety of our players, staff, and local residents, the Finals event will not have an audience, and we'll be following strict COVID-19 protocols including testing before arrival and separation on site for our finalist teams.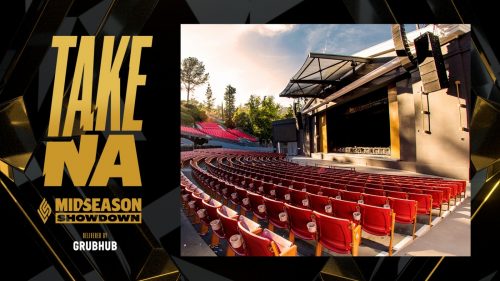 For the first time since 2019, an LCS title champion will be crowned on stage and named our representative at the global Mid-Season Invitational, to be held this May in Reykjavík, Iceland.
MID-SEASON SHOWDOWN FORMAT
The LCS's traditional Spring Playoffs and Finals are combining into the new Mid-Season Showdown, our capstone to the first half of the LCS's year-long season and the first LCS championship title of 2021. Delivered by our partner Grubhub, MSS will also debut Grubhub Rift banners in each Base, and the Baron will get its first ever Red Bull branded banner in the pit.
With only six teams remaining after qualifying through the regular season standings, the LCS will shift to a two-day / Saturday-Sunday schedule until the MSS Finals Weekend. This video will get you up to speed:
MSS FINALS & GREEK THEATRE DEBUT
The MSS Finals Qualifier and the MSS Grand Finals will take place Saturday, April 10 and Sunday, April 11 respectively, at the historic Greek Theatre in Los Angeles.
"The Greek" opened its outdoor amphitheatre in 1930, and since then has been the home of iconic artists from every decade and genre, from Billie Eilish and Avril Lavigne, to Thom Yorke, Neil Diamond, and Van Morrison. It's also been a centerpiece of Los Angeles culture and in every medium, from film to TV to music and podcasts.
The LCS is honored to celebrate a milestone in our competitive season, and our return to stage play, at the landmark Greek Theatre.
Follow the LCS @LCSOfficial for more information and updates, and catch all the MSS action starting Saturday, March 20 at 1pm PT on twitch.tv/lcs, youtube.com/lcs and lolesports.com!