The LCS is proud to partner with Nerd Street Gamers, the national esports infrastructure company, to produce Nerd Street Power Play: the last chance qualifier tournament in the amateur LCS circuit.
Taking place March 22-25, Nerd Street Power Play will determine the final two teams to qualify into the LCS Proving Grounds powered by Verizon. Over the past nine weeks, fourteen teams have qualified into the LCS Proving Grounds through a series of Tier 2 and Tier 1 tournaments or through regular Academy season standings. You can find more detail on the current amateur and Academy team standings through our partner Mobalytics Esports on esports.mobalytics.gg.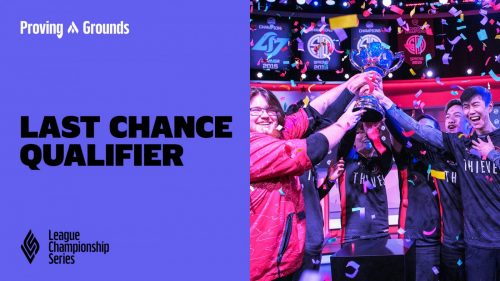 After the last two qualifying teams are locked in at Nerd Street Power Play, the top 16 amateur and Academy teams will compete in the LCS Proving Grounds, where the winner will be crowned best amateur LoL esports team in North America.
Nerd Street Gamers has been a long-time partner of Riot Games esports and a staple tournament organizer in competitive VALORANT. We're excited to continue expanding our partnership into League of Legends esports in NA, and provide amazing experiences for our amateur, semi-pro, and pro teams.
Tune in starting Monday, March 22 at 3pm PT / 6pm ET on twitch.tv/nerdstgamers.