LucidSound®, gaming's fastest growing premium headset brand, announced two new gaming headsets.
The new LS31 and LS41 will launch into a strong headset market with U.S. gaming headset sales up over 90% in March and over 75% during the first three months of 2018 according to leading market research companies. The LS31 Wireless Gaming Headset and LS41 Wireless Surround Headset replace the top-selling LS30 and critically-acclaimed LS40 headsets adding a host of enhancements designed to deliver an outstanding audio experience for gamers.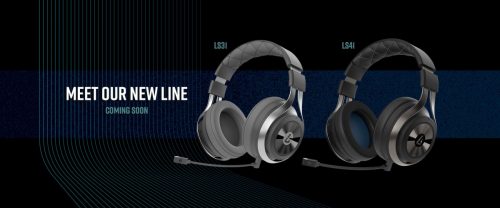 "The mission of LucidSound is to disrupt the gaming headset category with headsets created for this generation of PC and Console gamers," said Chris Von Huben, CEO of LucidSound. "The LS31 and LS41 are designed for today's players with all the features needed to support new games and new genres like Battle-Royale."
LS31 Wireless Headset:
A premium wireless headset for gamers at all skill levels.
Delivers clear chat on Xbox, PlayStation and PC.
Upgraded drivers and amplification deliver accurate audio without distortion.
New oval earcup design delivers a more comfortable experience and noise isolation.
Replaceable ear cushions.
Boom-mic features improved pick up accuracy and durable connectors.
Flexible headband provides extra comfortable to wear for extended gaming sessions.
Optional EVA Carry Case designed exclusively for the headset.
LS41 Wireless Surround Sound Headset:
A premium wireless headset for advanced gamers.
Delivering rich DTS® Headphone:X®1 Surround Sound across a all current gen consoles.
High-capacity rechargeable battery significantly increasing its running time for sustained gaming sessions to over 20 hours.
New improved USB transmitter design allowing for much improved placement when connecting to the host console.
Delivers clear chat on Xbox, PlayStation® and PC.
Upgraded drivers and amplification deliver accurate audio without distortion.
New oval earcup design delivers a more comfortable experience and noise isolation