PAX South 2020, the Southern United States' most-attended gaming event, returns to the Henry B. Gonzalez Convention Center in San Antonio, Jan. 17 – 19 for its sixth annual celebration. Show organizers ReedPOP and Penny Arcade will begin badge sales on Aug. 1, 2019. A full list of events and exhibitors will be available later this year.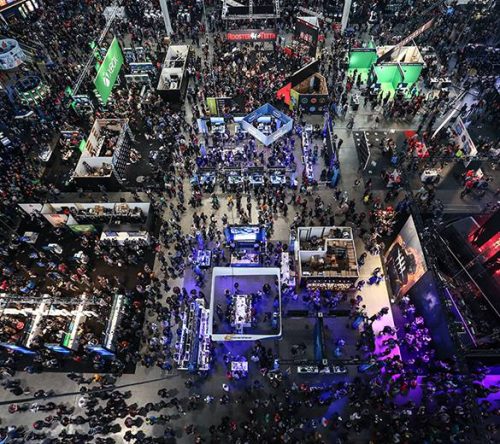 Kicking off the annual gaming calendar, PAX South is the year's first opportunity for the public to play the hottest upcoming games. Previous shows have included exhibitions from major game publishers like Nintendo, PlayStation, Xbox, Capcom, and more. There are also panels where fans can see the reveal of new titles (such as 2019's anticipated Borderlands 3, which was unveiled at the most recent PAX event), roundtables where renowned game creators engage in insightful talks, signings with popular personalities, arcade and tabletop freeplay areas, and a variety of other amusements, such as concerts, that keep the party going well into the evening.
The PAX Arena also hosts a full schedule of intense esports competitions throughout the show. These include Stream Stars, where famous faces from YouTube and Twitch battle for glory, and the Omegathon, a PAX tradition dating back to 2004 where attendees are randomly selected to participate in a mystery game tournament for a chance to win a free trip to another PAX event.
Three-day badges for PAX South 2020 will be sold for $95. Meanwhile, individual badges for Friday, Saturday, and Sunday will go for $45 apiece. Sunday is a great day to bring the whole family, as special Sunday badges for kids ages 12 and younger can be acquired for only $10.
Badges to station a desktop in the Bring Your Own Computer section are available for $40.
A collection of exclusive show merchandise, featuring a new 2020 PAX University theme, will go on sale when badges become available for purchase on Aug. 1. The pre-sale items include a PAX South 2020 long-sleeve t-shirt for $30, tin lunch box for $20, and spinning crest keychain for $15. Merchandise orders will be delivered approximately two weeks before the show.
"PAX South is when we kick off another year of shows," said Jerry Holkins, co-founder, Penny Arcade. "We love visiting San Antonio because nobody can agree on where the best taco place is, or the barbecue, so some days you eat lunch three or four times. Get your badges when they go on sale August 1st, and we'll see you there."
The international lineup of PAX shows (West, East, South, Aus, Dev, and Unplugged), produced by ReedPOP in conjunction with Penny Arcade, comprise some of the world's largest gaming festivals. PAX events connect the industry's greatest creative minds from across the worlds of both video and tabletop gaming, directly to passionate audiences.