The lineup of attractions for 
PAX West 2019
, the West Coast's most-attended gaming convention, is now available. The full schedule of panels, tournaments, and exhibitors for the celebration of gaming culture, taking place Friday, Aug. 30 through Monday, Sept. 2 in Seattle, can be found on the show's 
official website 
and 
Guidebook app.
 Limited numbers of Friday and Monday badges are 
still available
 for $57 apiece.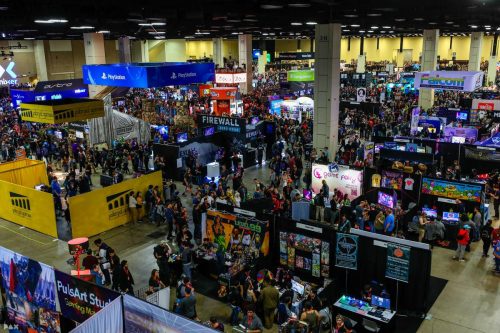 PAX West boasts massive show floors across multiple levels of the Washington State Convention Center featuring amazing booths from many of the industry's most popular game makers, including Nintendo, PlayStation, Square Enix, Ubisoft, Capcom, Bungie, and many more. Alongside all the big names, local game studios, hardware manufacturers, tabletop game creators, and vendors showcasing their wares round out the expo halls. A detailed map and full list of exhibitors will be available at the event and online prior to the show.
The event also features breaking news and behind-the-scenes looks at the hottest upcoming games throughout the four-day weekend during panels from Gearbox Software (Borderlands 3) on Friday at 1:00 PM, DRAGON QUEST® XI S: Echoes of an Elusive Age – Definitive Edition on Saturday at 10:30 AM, Obsidian Entertainment (The Outer Worlds) Saturday at 1:30 PM, and more.
PAX West 2019's schedule also includes panels and live podcasts from the biggest gaming websites like IGN, GameSpot, Giant Bomb, and Eurogamer, as well as popular YouTube channels such as Jacksepticeye, GameXplain, and Mega64. The show is also brimming with fun opportunities like concerts, autograph sessions, and esports tournaments.
"I love PAX West because we get to have a one-of-a-kind event that's focused on our fans, and has so many incredible games and live events in once place" said Jerry Holkins, co-founder, Penny Arcade. "Also, we're the only show where you can see the show organizers get up on stage dressed in fantasy costumes and play Dungeons and Dragons."
The international lineup of PAX shows (West, East, South, Aus, Dev, and Unplugged), produced by 
ReedPOP
 in conjunction with Penny Arcade, comprise some of the world's largest gaming festivals. PAX events connect the industry's greatest creative minds from across the worlds of both video and tabletop gaming, directly to passionate audiences.