Razer announced the next destination for its global esports series with the Razer Invitational – Europe (RI-Europe), the largest EU-based open tournament of its kind.
Driven by the huge success of the inaugural Razer Invitational – SEA earlier this year, and the excitement and passion for the ongoing Razer Invitational – LATAM, the Razer Invitational series is continuing its tour around the globe with the latest event now launching in Europe. Competing in a series of inclusive Fortnite tournaments, gamers of every skill level, whether they are a first time amateur, an experienced gamer or a seasoned pro, can team up with some of the region's most famous star streamers and compete for cash and hardware prizes.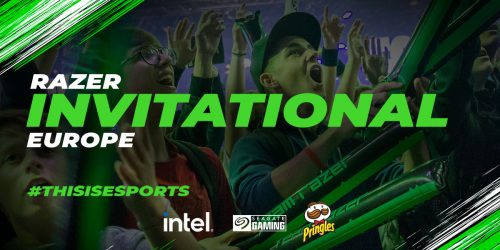 "With the Razer Invitationals in Southeast Asia and Latin America, we brought together thousands of players from 16 countries to compete in open tournaments, which garnered tremendously enthusiastic feedback from the community," said Zuber Mohammed, Chief Marketing Officer for Razer. "Bringing this initiative to other regions around the world is a natural next step, and we look forward to European gamers signing up for their very own Razer Invitational. We know they are going to love the competition and the chance to sharpen their skills in a large-scale event. Who knows, maybe we'll discover the next Bugha or Zayt!"
A major European esports tournament for every gamer and every fan
In recent years, Europe has seen the popularity of esports grow exponentially, with the region now home to some of the best esports athletes on the planet. With established global teams signing local players, and new teams achieving remarkable success on the global stage, esports fans have witnessed some memorable and fierce competitions. Today, Razer is taking esports to the next level with RI-Europe, offering players and the community a new competition set to surpass the expectations of a standard esports tournament. Gamers from all over Europe can sign up and compete to proudly represent their squad, team, and nation in an entirely online, virtual event.
Keeping access as open as possible, the RI-Europe tournaments will be decided in one of the most popular battle royale games of all time, Fortnite. Razer has decided to support the burgeoning European Fortnite community with 6 weeks of intense competition, with each week featuring a tournament for up to 5000 competitors to battle it out for cash and hardware prizes from Razer and co-sponsors, IntelTM, SeagateTM and PringlesTM.
The RI-Europe will kick off on December 5th with what promises to be a ruthlessly entertaining exhibition match between star European streamers, including Krench Royale, Rogalik, Rafa and many others. And to reinforce the 'open to all' nature of RI-Europe, each streamer's team will be made up of members of their community, giving their fans a chance for glory alongside their heroes.
Win by watching
The Razer Invitational – Europe is offering a chance for every player, regardless of their experience, to take part in a major event and compete for the win. But the inclusivity of RI-Europe doesn't stop with the players, there's plenty for fans and viewers to enjoy as well.
When tuning in to Razer's YouTube, Facebook and Twitch channels to watch the live matches, viewers can win prizes by voting for the MVP (Most Valuable Player), as well as take part in random draws for spot prizes, and even submit speed runs on an custom map for a bit of side-competition with other viewers and players. Live streams will be available in English, German, French, Spanish, Russian and Polish.
Followers of the tournament on Razer's social media channels will also have plenty of chances to win, with a host of giveaways and competitions for prizes from Razer, Intel, Seagate, and Pringles spanning the duration of the tournament.
Twitter and Instagram users should follow the hashtag #ThisIsEsports for the latest updates.
Sign up now
Registration for the RI-Europe will open on November 26th. Six tournaments will be organized from December 10th 2020 through to January 30th 2021, with each tournament able to support up to 5000 players. Each week will see 3 days of tournament play, with qualification and playoff phases on the first two days, culminating with finals every Saturday.
For more information on the Razer Invitational – Europe, registration information and schedules for the qualifiers, channels to follow and where to watch the tournaments, please visit the official RI-Europe website or Team Razer's Facebook page.