Hi-Rez Studios released SMITE's brand new Battle Pass designed in close partnership with electronic music label Monstercat.
Dedicated web page: https://www.smitegame.com/battle-pass/
The iconic sounds of electronic artists Slushii, Sullivan King, Noisestorm, and Koven soundtrack the Monstercat Battle Pass. Live today, it brings four character skins, music themes, and more to the SMITE universe.
Each Monstercat skin features music from the artist throughout the gameplay experience, replacing ability sounds with drum & bass, tropical house, and more.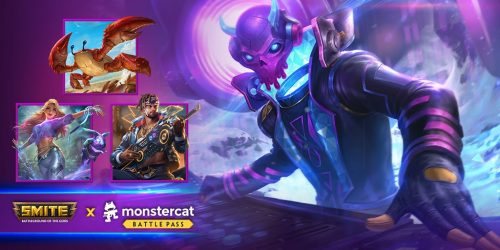 The collaborative Battle Pass also unlocks four Music Themes, allowing players to completely replace SMITE's default soundtrack with Monstercat tracks including Slushii's brand new song "Valhalla," the Gold-certified internet classic "Crab Rave" by Noisestorm, the romantic liquid drum & bass of Koven's "Give You Up," and the heavy-hitting grit of Sullivan King's "Someone Else."
Avatar: The Last Airbender returns to SMITE on the heels of last year's immensely successful crossover.
Azula Pele is an all-new high-fidelity God skin, based on the princess of the Fire Nation from Nickelodeon's hit series. The skin is available at a 20% off discount for the first two weeks of availability.
Simultaneously, all existing Avatar skins are available once again – a first since their memorable release last Summer.
Driven by community sentiment, Titan Forge Games upgraded both the character model and Voice Pack of Athena, one of the earliest SMITE Guardians. While many changes are aesthetic, others focus on cultural fidelity.
Her previous model remains available as a skin and can be unlocked with either Gems or Favor, SMITE's free currency.
Persephone, Queen of the Greek Underworld, also gets a rework with new updates to her kit design. Everyone should now find her new gameplay identity more enjoyable – easier to utilize for those who play her, and clearer to read for enemies.
Website: https://www.SMITEGame.com