The ECS Season 8 Pinnacle Cup kicks off, Wednesday 11th September, and here's a handy guide to ensure you're all clued up on who's playing, when and how you can watch, and what the Pinnacle Cup means for the upcoming season of ECS.

Last season, the two Grand Finalists, Team Vitality and FURIA, were Pinnacle Cup qualifying teams, and we can't wait to see how this season's teams perform.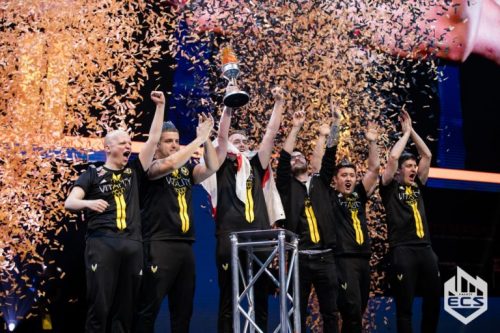 What is the Pinnacle Cup?
The Pinnacle Cup consists of two Swiss tournaments, one EU and one NA, that determine the seeding for ECS Season 8's Regular Season. In tournament weeks where eight of the ten qualified teams from the previous ECS season are unavailable, the Pinnacle Cup seeding will determine which teams will fill the slots. To qualify for the Pinnacle Cup, teams fought through the ECS Open Qualifiers, and now they'll get a shot at securing the best seeding for a run at qualifying for the ECS Season 8 Finals.
When does the Pinnacle Cup start?
The ECS Season 8 Pinnacle Cup starts on Wednesday, 11th September and lasts three days, running through to Friday 13th September.
EU matches get underway at 18:00 CEST each day. NA matches begin at 18:00 ET.
Who is competing in the Pinnacle Cup?
EU Pinnacle Cup teams:
| | | | |
| --- | --- | --- | --- |
| Ambush | BIG Clan | BLUEJAYS Sports | CR4ZY |
| Espada | forZe | GamerLegion | Heroic |
| Japaleno (Chaos) | m1x | Se7en Esports | Spirit |
| Sprout | Team Heretics | Tricked | Windigo |
NA Pinnacle Cup teams:
| | | | |
| --- | --- | --- | --- |
| ATK | Big Frames | Swole Patrol | Livid |
| Mythic | New Identity | Oceanus Gaming | Party Astronauts |
| Peekers Advantage | Rap Gang | RBG Esports | Riot Squad |
| Sharks | Team Divine | Team One | The Quest |
What is the format and the first-round matchups?
The Pinnacle Cup uses a Swiss format, meaning that teams play opponents with the same record. All matches are Bo3, and teams with a 3-0 record will secure the top possible seed of the Pinnacle Cup teams. Teams who end up with a 2-2 record after four matches will end up playing the maximum number of matches (5).
First-round matchups (EU):

CR4ZY vs m1xX
Heroic vs Windigo
Tricked vs BLUEJAYS
GamerLegion vs Se7en
forZe vs Ambush
BIG Clan vs Espada
Spirit vs Japaleno (Chaos)
Heretic vs Sprout
First-round matchups (NA)

Sharks vs Mythic
Swole Patrol vs Oceanus
ATK vs RBG Esports
Riot Squad vs Team Divine
New Identity vs Party Astronauts
TeamoNe vs Rap Gang
Peeker's Adv vs The Quest
Big Frames vs Livid
How can I watch the Pinnacle Cup? 
Last week we announced that ECS Season 8 will be open for the community to stream, and the Pinnacle Cup will be no different. Members of the community will stream Pinnacle Cup matches on Caffeine.
You'll also be able to catch our Community Caster Challenge entrants streaming the matches on Caffeine.
How can I stay up to date with the Pinnacle Cup? 
We'll be providing updates, scores and links to streams through @ECS on Twitter, so make sure you're following to stay up to date with the Pinnacle Cup action, as well as keep an eye out for updates on the ECS website.
Watch live video from FACEIT TV on www.twitch.tv