Announcing the JBL Quantum Grant in partnership with 1,000 Dreams Fund. Conceptualized by JBL to help amplify the voices and jumpstart the careers of women in gaming and esports, JBL and 1,000 Dreams Fund are coming together to identify and support women interested in pursuing these careers by providing 30 microgrants and unique opportunities to engage with high-profile women in the industry.
Content creators Brooke Bond (BrookeAB) and Kyedae Shymko (Kyedae) will be participating in the JBL Quantum Grant by offering virtual mentorship sessions with select grant winners. The two top female gamers will share tips and advice for breaking into the gaming industry, creating content and building a community.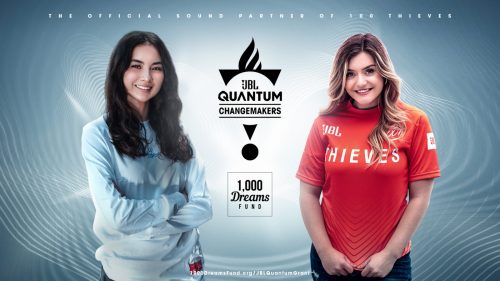 Details About the JBL Quantum Grant with 1,000 Dreams Fund
With JBL's commitment and support, 1,000 Dreams Fund has launched the JBL Quantum Changemakers Challenge that allows women to apply for a $1,500 microgrant to support their career aspirations in gaming and esports. To be eligible, applicants must be college- or graduate-level students aged 18 or older, based in the U.S., identify as female and currently involved with organizations focused on esports, gaming, computer science, technology and/or STEM. Applicants should exemplify leadership and demonstrate a passion for improving representation in their field. Interested participants can find more information at 1000DreamsFund.org/JBLQuantumGrant. The challenge will remain open for six weeks, and the winners will be announced during a gaming tournament hosted by JBL and 1,000 Dreams Fund later this year.