The National Videogame Museum (NVM) has announced that it will be reopening to the public on Friday 21st May, for the first time in over 6 months. Save a brief reopening period in late Summer 2020, the Sheffield museum and visitor attraction has been closed since 16th March 2020. As an independent museum, this attraction is only able to reopen after running multiple fundraising campaigns, most notably their JustGiving campaign back in March 2020 which was supported by members of the Sheffield public and after receiving support from the Culture Recovery Fund.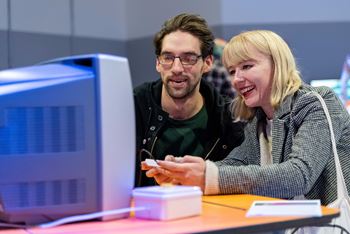 The Museum continues to invite visitors to touch and explore its exhibits in a highly interactive environment, and has developed comprehensive safety procedures to keep them as safe as possible in their visit. This includes an increased cleaning regime, socially-distanced galleries, and a clear hand sanitizing guide to enable visitors to fully enjoy the museum's exhibits.
Since lockdown, the NVM also delivered a popular online program, that saw its learning activities made freely available for those at home. These accessible outreach activities made their programs available to more people than ever, and won the Kids in Museum's Family Friendly Museum Award from Home. The Museum has also been featured prominently in many international news outlets for its ongoing Animal Crossing Diaries project.
For more details about the NVM, please visit: http://www.thenvm.org