The Ferrari Esports Series is reaching its dramatic conclusion as the full slate of 24 sim riders has been decided. The Grand Final will take place on 6-7 November with only one talented driver able to come out on top, winning a life-changing prize in the process: a seat in the official Ferrari esports team.
The final names were selected thanks to the fourth and final Championship round, which took place yesterday on the Spa Franco.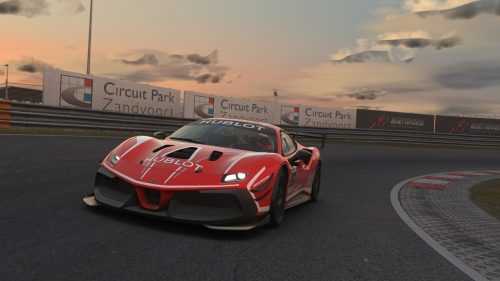 The professional race was won by French driver Arnaud Lacombe, who has dominated these October races, coming out on top in the last four races. Joining Lacombe on the podium was Poland's Kamil Pawlowski and Italy's Giovanni De Salvo taking second and third place respectively. These drivers also ended up in the first three places of the competition, gaining the opportunity to participate in November's Grand Finals together with Danilo Santoro, Giorgio Simonini, Jesùs Sicilia, Kevin Siclari, Corrado Ciriello, Chris Hoeke, Alex Turato, Tariq Gamil, and Cesare Penco.
With just enough time to recover from the PRO race, attention then turned to the AM race: Gianfranco Giglioli (Italy) started from the pole position and was able to hold his lead until the end, followed by Dominik Blajer (Poland), and the other Italian Michael Romagnoli. Jarno Koch, the winner of the previous three races, ended up in fifth place and, with that, won 2020's AM Championship. These drivers, together with Marco Panero, Leonardo D'Alcamo, Norbert Morvai, Andrea Benedetti, Thomas Scibilia, Marcin Swiderek, Torben Peschke, and Mateusz Tyszkiewicz qualified for the Finals.
The final line up for the Grand Finals is particularly exciting because of the twenty-four drivers in total, twelve of them have come through the amateur ranks to take their place on the starting grid in November's races. Four weekends of intense Championship competition have highlighted the palpable talent in the amateur line up, and it's entirely plausible that the coveted seat in Ferrari's esports team could be occupied by brand new talent in 2021.
The live broadcasts for the Grand Final races can be followed on the Official Twitch, YouTube, and Facebook channels, and feature expert commentary by Nicki Shields, pit lane reporter for the FIA Formula E Championship, and Paul Jeffrey, Sim Racing expert, journalist, and voice of companies such as Sro Esports and Race Department.
Race calendar:
6-7 November 2020: PRO & AM Series Finals
The Ferrari Hublot Esports Series Championship can be followed on the official social media channels:
Instagram: @Ferrariesports
Twitter: @Ferrariesports
Twitch: @Ferrariesports
Facebook: @FDAFans