Free Fire welcomes Survivors to a world where culture and fashion are heavily influenced by fairy tales and fables in its latest Elite Pass (EP), Evil Enchanted. Be the belle of the battlefield after earning fairytale-themed rewards, including the Prince and Princess Afterdark Bundles, the Evil Enchanted MP5 skin, and much more.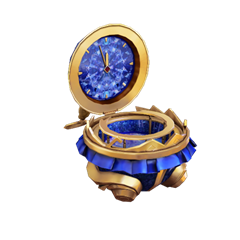 In Evil Enchanted, Survivors are transported to a fictional time that blends the 1970s with current-day technology. Caspian and Ariel — the two main characters in this EP — serve as security escorts for dignitaries that are traveling to and from a small city in the middle of the forest. This city often serves as the site for many important meetings between world leaders, conferences, and other VIPs, making its outskirts a very desirable location for mercenaries, assassins, and other rogues to prey on their targets. While both Caspian and Ariel are on patrol, they come across a mysterious figure who appears to be lost. His purpose is suddenly made apparent as he mentions killing the governor during a call to his team. Shortly after his call, he spots Caspian and Ariel, pulling out and pointing a gun in their direction.
The Evil Enchanted EP gives Survivors the opportunity to earn several fairytale-themed rewards that include:
Prince Afterdark Bundle (Male)
Princess Afterdark Bundle (Female)
Crystal Case Box Skin
Crystal Heels Diver Skateboard
Evil Enchanted MP5 Weapon Skin
Crystal Heels Case Backpack
Free Fire designers pulled out all the stops for the Evil Enchanted EP's style. The classic fairy tale of Cinderella served as their main inspiration for Caspian and Ariel's clothing, while a combination of gold, blue, and red acted as the core color scheme. The overall aesthetics are darker in tone with design element highlights that include crystals, ruffles, and fringes. Both outfits feature incredible centerpieces that continue the EP's homage to the timeless Cinderella story — a crystal high heel on the Prince Afterdark Bundle and a horse head on the shoulder of the Princess Afterdark Bundle.
Survivors who wish upon a star looking to play the most popular mobile game won't need to look far as Free Fire can be downloaded on the App Store or on Google Play.