Guild Esports announces the signing of Swedish-born professional athlete Saif "Sayf" Jibraeel, and coach André "BARBARR" Möller, with both additions strengthening the organization's competitive Valorant team.
Sayf, a top-ranked EU pro in the Valorant scene, holds an impressive record across the sport with both 1st and 2nd placings in a wide variety of Valorant events over the last 9 months of turning pro. Sayf previously played alongside Guild's existing team members during his time with Bonk, and so will be a natural addition to the team. Sayf will be competing in the upcoming Upcoming 'Red Bull Home Ground' Valorant event.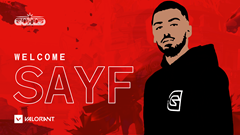 BARBARR, who joins in a coaching capacity, is an experienced FPS professional athlete, with a history of winning both as a player and coach. Since turning to coaching he has become renowned for taking minor teams to the highest tiers of CSGO competition, and his player development strategies along with it. Now making his conversion to Valorant represents his wanting to work with a team consistently pushing for trophies. Playing professionally since 2008, BARBARR is an expert at maximizing the potential of players and cementing victories in the major leagues.
Both Swedish-born signings join Guild's elite Valorant team which includes Leo "Leo" Jannesson, Yacine "Yacine" Laghmari, Malkolm "bonkar" Rench and William "Draken" Sundin, as they prepare for upcoming qualifiers in the 2021 Valorant EU Challengers. These new additions complete Guild's team, and offer an exciting and highly skilled deployment from the organisation as they take on the Valorant leagues.
Grant Rousseau, Guild's Director of Esports commented, "As Valorant grows in popularity within the esports world, so does the competition. We're thrilled to build upon our already highly talented team, and welcome the expertise of both Sayf and André who will no doubt be indispensable as we move forward to even greater heights."
Sayf added, "I can't wait to unite with my old team mates and remind everyone of how well we mesh together in a match, and the opportunity to work within Guild makes it even more special. Watch the league tables, because together we're going to be making waves!"
BARBARR commented, "Guild's Valorant team are a highly flexible and intensely professional group, the kind that is every coach's dream to train. With our combined efforts, you can be sure that it's going to be a very good time to be a Guild fan."