Gaming's largest charity fundraiser, Jingle Jam returns for 2019 with a brand-new games bundle – and aims to raise millions more for worthy causes around the globe.
Since launching in 2011, the Jingle Jam has successfully raised over $15m for worthy causes.  In 2018, around 90,000 gamers helped donate $3.3m.  An incredible $250,000 was raised in the first 8 minutes of this year's fundraising drive.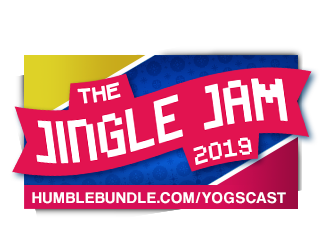 Thanks to its long-running partnership with Humble Bundle – the digital game seller, Jingle Jam's latest gaming collection is available now for a minimum charitable donation of $30 – you can donate as much as you like.
With the backing of games publishers around the world – the Humble Jingle Jam Bundle becomes the ultimate advent calendar for PC gamers.  Everyday – your code unlocks another new game in Steam until Christmas Day. With DLC, in-game items and other surprises – the typical Humble Jingle Jam Bundle is worth at least $700 – making it an unmissable purchase for PC gamers.
Jingle Jam 2019 will support:
Grand Appeal (grandappeal.org.uk)
Mental Health Foundation (mentalhealth.org.uk)
Special Effect (specialeffect.org.uk)
Stand Up To Cancer (standuptocancer.org.uk)
War Child (warchild.org)
Whale & Dolphin Conservation (uk.whales.org)
Access Sport (accesssport.org.uk)
Call of Duty Endowment (callofdutyendowment.org)
Alongside the bundle – games streaming collective, The Yogscast broadcast live for a minimum of 12 hours a day throughout the Jingle Jam fundraising drive – delivering over 700 hours of live content.  Throughout the charity drive, The Yogscast becomes one of the world's most popular Twitch streams.
Lewis Brindley – Co-Founder of The Yogscast and leader of Jingle Jam, said:
"It's the most wonderful time of the year, when we turn our focus to raising an incredible sum of money for some amazing charities.  The games industry lends its support and provides amazing games, DLC and stuff for the bundle – and gamers dig deep and donate. We want 2019 to be bigger than ever – and to do this we need you to help spread the word.  The more people that hear about Jingle Jam – the more we can raise."
Buy the Jingle Jam 2019 bundle now at http://www.humble.com/yogs
Watch live video from Yogscast on www.twitch.tv