After weeks of fierce competition, PUBG GLOBAL INVITATIONAL.S (PGI.S) comes to an end with Week Six, which are scheduled for March 27-28, 2021. Please see below for a recap of last week's competition and key storylines to monitor during the finals this weekend.
PGI.S Week Five Recap
While we look forward to the drama of the final weekend, the penultimate week of competition was not without its standout moments.
See below for Week Five results and catch-up with the VODs at Twitch and/or YouTube.
Gen.G For The Win – Gen.G managed to hold off Meta Gaming, infantry, and Digital Athletics in what was a very close competition, winning first place and more than $816,000 USD. Late-game heroics by "Pio" in the penultimate match helped propel Gen. G to the win.
Meta Gaming Shows Grit – Entering its final match, Meta Gaming was sitting in ninth place with only 13 points separating it from the top team. On the back of a team wipe of Virtus.pro by "WICK2D," Meta Gaming quickly climbed ranks and ultimately secured second place, winning $150,000 USD.
Digital Athletics Show Consistency – Digital Athletics followed its excellent performance in the Week Four finals with another top-four placement in Week Five. The team was ranked 11th heading into its final match against Tianba and ultimately won out to secure fourth place. Digital Athletics took home $75,000 USD as a result.
PGI.S Week Six Storylines To Watch
More Than $1 Million At Stake – The final week of PGI.S starts this weekend, and it's likely to be the most competitive and wild competition yet. With more than $1 million USD up for grabs during Week Six, the stakes are incredibly high for all 31 teams competing. In total, the prize pool for all six weeks of PGI.S is more than $3.5 million USD, making it the largest in PUBG Esports history. The team that earns the most throughout all six weeks of PGI.S will be crowned the overall event winner.
Gen.G Has Experience On Its Side – Gen.G currently sits atop the leaderboard heading into the final week of play. As winners of the 2019 PUBG Global Championship and the PUBG Global Invitational in 2018, the esteemed esports organization is on the verge of adding another major title to its remarkable legacy.
Must Eat Chicken To Survive – Weekly Survival #6 will feature some of the most nerve-racking matches for the fans watching at home, but competing teams will really feel the pressure. Only 16 teams will advance to the Week Six Final, and each must win a Chicken Dinner to progress.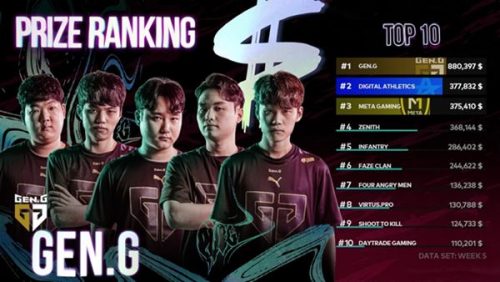 PGI.S Finals Schedule
Saturday, March 27, 2021 – 10:00 a.m. GMT / 6:00 a.m. ET / 3:00 a.m. PDT
Sunday, March 28, 2021 – 11:00 a.m. BST / 6:00 a.m. ET / 3:00 a.m. PDT
Finals Broadcast Information
For the latest information on PUBG Esports, please visit https://pubgesports.eu/en