Gaming rewards and marketing company Refereum  announced its partnership with gaming juggernaut PLAYERUNKNOWN'S BATTLEGROUNDS. Through Refereum's revolutionary new way of rewarding gamers via the blockchain, PUBG players are now able to earn merchandise, game keys, and even cryptocurrency for their in-game accomplishments.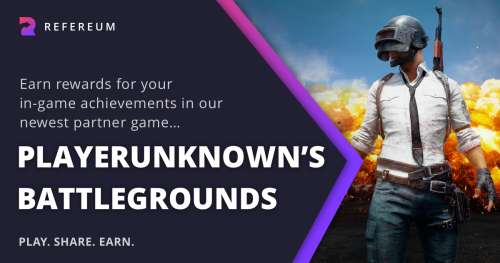 By closely integrating with PUBG's API, Refereum can award players points for achievements such as earning chicken dinners or making 20 kills. When Refereum's PUBG campaign ends in a month, players' final point rankings will determine what they win, with prizes including Refereum's RFR cryptocurrency utility token and "Loot Drops" of PUBG merchandise (containing a backpack, water bottle, hat, and more!) valued at over USD $120.
Refereum's inaugural PUBG campaign lasts until August 20, 2019.