For the third year running, PUBG Corporation is supporting Chicken for Charity, an online UK-based charity tournament featuring PLAYERUNKNOWN'S BATTLEGROUNDS (PUBG).
The event, which features various video game industry professionals and is hosted by SEGA Europe and sponsored by HyperX and KFC Gaming, will take place on 25 September 2020. All proceeds will be donated to SpecialEffect – a charity dedicated to helping people living with disabilities to game to the very best of their abilities.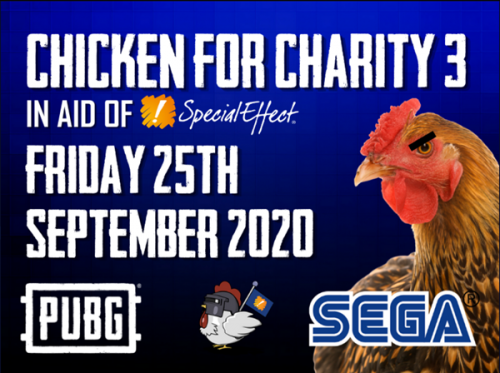 Members of the public are able to watch the event live on Twitch from 17:00 BST, and will be encouraged to donate via Just Giving. In addition, official sponsors of Chicken for Charity will also add to the pot, as well as contributing prizes for the winning teams. So far, the event has raised £25,000.
SpecialEffect is a UK-based organization that aims to put fun and inclusion into the lives of people with disabilities by helping them play video games. Using technology – ranging from modified joint pads to eye control – they bring families and friends together to game and improve quality of life, build confidence and promote inclusion.
Chicken for Charity will consist of five rounds of PUBG PC action, with up to 25 rosters taking part. The tournament will kick-off with a warm up round, before four competitive matches – each taking place on a different map. As part of the event there will be prizes for the top three rosters and for the highest donation. All participants will also receive a gift for taking part.
Throughout the tournament, all the action will be covered by PUBG experts and casters John 'JoRoSar' Sargent, Talha Khan, Frankie Ward and the event will be observed by Dan Bennett.
Chicken for Charity will also be hosting exciting social media giveaways on its official Twitter and Twitch channels.