PUBG Corporation announced PLAYERUNKNOWN'S BATTLEGROUNDS LITE (PUBG LITE), a free-to-play adaptation of PUBG that aims to deliver the core game experience while balancing lower hardware requirements, is now available across Europe with the full list of countries available here. Players can directly download the game at: https://lite.pubg.com/download/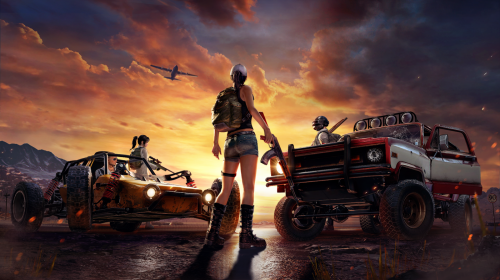 PUBG LITE offers fans, who were previously unable to access the game, to now have the chance to play PUBG through PUBG LITE with the thrill and experience of the original game. Players will take to the skies and descend onto a deserted island to compete among 100 players in a struggle for survival. Gather weapons, vehicles and supplies, whilst strategizing and outwitting opponents to become the last person standing. Alongside the 10th October launch, players can also look forward to other content, including:
4 VS 4 Match
A 4 VS 4 mode is included in PUBG LITE. In this mode, the pace of the game is pushed to the limit as two four-person squads battle for survival. The mode takes place in a deserted warehouse surrounded by old shipping containers and vehicles, allowing each of the teams the chance to skillfully outmaneuver each other on their quest to become the first squad with 40 eliminations.
New Season
LITE PASS is now available for Season 2 and players can expect LITE PASS: Premium Season 2 to cost 400 L-COIN which includes the Premium pass itself and rewards for mission completion such as Chicken Medals, Silver Bullets, Skins, BP and XP. LITE PASS: Premium Plus Season 2, offered at a 40% discount, costs 1,100 L-COIN and its contents include the Premium Plus pass and 25 Level Up Pass, as well as rewards for mission completion which include Chicken Medals, Skins, Silver Bullets, BP, XP and Emote.
LITE PASS: Free, is a new season pass, available to all players free of charge and includes completable missions that award in-game items as players level up. For players wanting more, they can purchase the LITE PASS: Premium and LITE PASS: Premium Plus which gives them the option to unlock even more missions and rewards.
New in-game currency
Two new in-game currencies are now available; Silver Bullet, obtained by players dissembling their costume/in-game items, which can be used to purchase items off the Silver Bullet and Chicken Medal Stores. The more players exchange in-game items for Silver Bullets to then transfer for a Chicken Medal, this can then purchase items from LITE PASS: Premium.
PUBG LITE has language support for: English, Turkish, Portuguese (BR), Portuguese (PT), Spanish (LA), Spanish (ES), Russian, German, French and Polish.
Fans can look forward to more feature updates and regional expansions of the PUBG LITE Open Beta service in the near future.
About PUBG LITE
PUBG LITE is the free-to-play, low-spec adaptation of PLAYERUNKNOWN'S BATTLEGROUNDS (PUB G). PUBG LITE aims to deliver the core PUBG experience while balancing lower hardware requirements. PUBG LITE is a standalone product from the core game and has its own dedicated development team that creates exclusive content and quality of life features for PUBG LITE players.