SMITE's new God Tiamat is the most ambitious playable character to date on all levels. Embodied as a majestic dragon, she is the first Goddess of the Babylonian pantheon, and a dual-stance Mage with elaborate, unique gameplay features.
Through an epic cinematic trailer in January, Tiamat banished Cthulhu back to the depths and reshaped the world—including SMITE's Conquest map—in her image. Now she takes over the Battleground of the Gods in-game.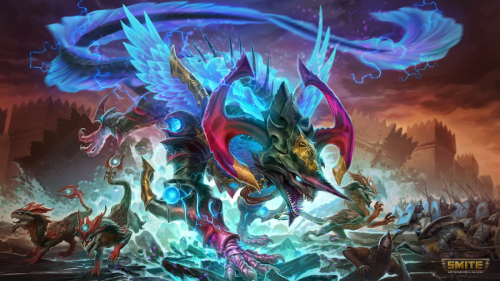 "Tiamat is the primordial queen, Goddess of the Salt Sea, and a massive labor of love from the Titan Forge team," says Dishant 'Clumzy' Samtani, one of the Game Designers behind Tiamat.
"She is a Mage with two stances and the ability to summon multiple creatures, her monstrous children. With her Flying stance, Tiamat portrays her elegant, regal nature. In her Ground stance she plays as a feral, draconic, brawling character."
"We wanted to go above and beyond, especially with Tiamat being the first God of the Babylonian pantheon. From her gorgeous visuals, animations and in-game presentation to the dual-Mage archetype ability kit, we hope our players enjoy her as much as we did bringing her to the game."
Tiamat's gameplay reflects her duality perfectly and naturally makes her a flexible character. As she flies she relies on long-range magical damage and her pets. When she leaps on the ground and into the fray, she gains high melee damage abilities, as well as increased durability.
As a deity of creation, Tiamat is also the first God in SMITE able to duplicate Jungle buffs. She can either leave a copy for an ally or pick it up herself, stacking its bonuses.
This Closer Look blog post gives in-depth details about the design phase of Tiamat.
Viewer Store update
Also starring in this update, the new Exclusive Skin Voodoo Rock for Baron Samedi is part of the Season 8 Viewer Pass.
Out for just 600 Gems, this yearly Viewer Pass is an exciting offer doubling Viewer Point gains all year long, and unlocking a special Recall Skin on top of this rockin' Baron Samedi Skin.
Live for about a year now, the Viewer Store has proven a popular way for players to gain free rewards, including brand-new Exclusive Skins. Any player with linked accounts earns Viewer Points by catching some SMITE action on certain Twitch channels and by voting on esports matches. Those free points can then be spent in the in-game Viewer Store.
Also released as Exclusive Viewer Store rewards: Infinite Avatar Vamana and the more light-hearted Chichen Pizza Xbalanque. And from now on, Viewer Points can be used to unlock savory cosmetics such as Jump Stamps, Recall Skins, Death Stamps, and more.