An Esports student from Staffordshire University is hoping to become the first ever UK winner of the Roland-Garros eSeries by BNP Paribas this month.
The Roland-Garros eSeries by BNP Paribas is the world's biggest eTennis tournament and Staffordshire University was specially selected by French Tennis Federation (FFT) to host one of eight international qualifying rounds in April.
Aymeric Labaste, Head of International Development of the French Tennis Federation, said: "We are delighted to benefit from the expertise and support from Staffordshire University in organizing the UK qualifying stage of the 2021 Roland-Garros eSeries by BNP Paribas, they did an amazing job! Staffordshire University has a major role in our intention to foster esport young talents and to position our event as a meaningful springboard towards a career in esport. This 1st year of collaboration is the beginning of a great story and the future together sounds truly exciting!"
Played on the video game "Tennis World Tour 2" the tournament is supported by French esports team MCES and brings together competitors from Brazil, Italy, France, Spain, Germany, Belgium and the UK.
BA (Hons) Esports students helped to broadcast the live two-day event to thousands of viewers across the world from the University's Esports Hub in Stoke-on-Trent while 16 players battled for a place in the Grand Final.
First year Esports student Max Ward was triumphant and he will travel to France, all expenses paid, to take part in a workshop organized in Roland-Garros on Friday 28 May and to represent the UK in the Grand Final against seven other players on Saturday 29 May.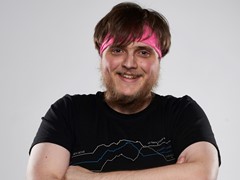 The 23-year-old from Winchester, who started on the Esports foundation course, coaches amateur esports players in North America and Europe alongside his studies and also has a voluntary job role as a copy editor with the International Journal of Esports.
The winner of the competition will share €5,000 prize money with the runner-up, take part in a professional esports bootcamp at Team MCES and have chance to some the professional tennis players competing at Roland-Garros.
The Roland-Garros eSeries by BNP Paribas Grand Final will be streamed live on Saturday 29 May on Gael Monfils' official Twitch channel. Re-watch the first live show of Roland-Garros eSeries by BNP Paribas 2021 on the Roland-Garros YouTube channel.