Allied Esports introduced ViewSonic, a leading global provider of visual solutions, as the Official Gaming Monitor and Official Streamer Room Partner of its flagship esports venue, HyperX Esports Arena Las Vegas.
Per the multiyear agreement, ViewSonic will outfit all HyperX Esports Arena Las Vegas gaming stations, including in the main arena and front lobby, with 27-inch ViewSonic ELITE™ XG270 monitors, and provide two 50-inch ViewSonic® CDE5010 4K Ultra HD displays for the recently renovated Streamer Room at the venue's front entrance. ViewSonic will also provide ELITE XG270 monitors for the Allied Esports Truck in North America.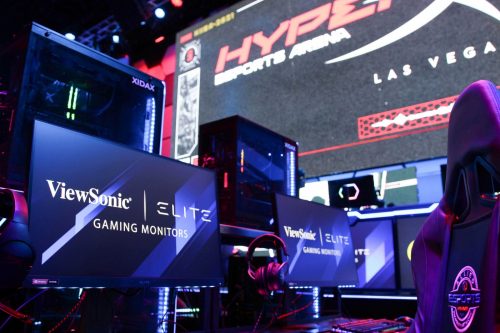 ViewSonic branding will be presented throughout HyperX Esports Arena Las Vegas, including in the Streamer Room, on the main arena's 50-foot LED wall, and on the Champions Circle digital display. ViewSonic will receive marketing and promotional support through weekly social media posts and email distributions, as well as logo placement on the venue's official website. ViewSonic will also receive 30-second spots, billboards and logo rotation during Allied Esports' weekly community broadcasts produced from HyperX Esports Arena Las Vegas. Furthermore, ViewSonic will receive a 15-second spot that runs prior to the start of each gaming station session throughout the venue.
ViewSonic is committed to delivering a fun and reliable experience for console and PC gaming. The ELITE gaming monitors are passionately developed and engineered for all gamers, from professionals and enthusiasts to beginners and casual players, to be competitive at all levels. A gamer's equipment is just as important as their skill level, and a monitor needs to have the latest technologies to deliver high refresh rates, fast response times and vivid images. ViewSonic is dedicated to growing with the gaming industry by offering support within esports through education and by partnering with and sponsoring teams, brands, influencers, and programs throughout the world.
As the premier esports venue and production facility in North America, the world-renowned HyperX Esports Arena Las Vegas has become a global destination for esports fans, professional players, streamers and influencers, event organizers, publishers and teams. Since opening in March 2018 at the Luxor Hotel and Casino, HyperX Esports Arena Las Vegas has hosted more than 500 events, including industry icons like League of Legends All-Star, Capcom Cup and the NBA 2K League.
With its unique modular design, elevated main stage, two-story LED video wall and one-of-a-kind HyperX Hype Tunnel, HyperX Esports Arena Las Vegas is the ultimate setting for both professional competition and everyday players to test and showcase their skills. The arena's weekly tournaments and broadcasts draw competitors from around the country and have become a benchmark for community events and grassroots growth for up-and-coming players.
In addition to its world-class gaming hospitality, HyperX Esports Arena Las Vegas's versatile production capabilities continue to be at the center of many online esports and entertainment productions throughout the world.
For a schedule of tournaments, walk-up play hours and additional information, please visit hyperxesportsarenalasvegas.com and follow @HyperXEALV.