By Blizzard Entertainment
We recently shared some high-level details about what next season will look like for the Overwatch League, and today we're excited to share the 2020 schedule—so you can start planning your weekends, your time off, your vacations, your road trips, and your viewing parties!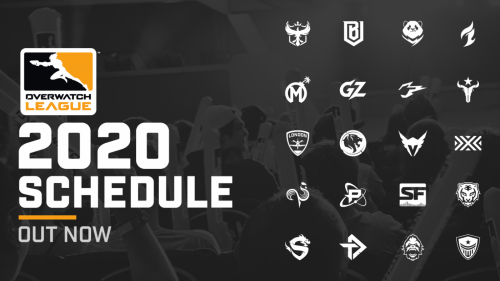 With matches in 19 cities around the world, there will be many chances to join us for a match in 2020. Here's just a taste of some great opportunities to see the best Overwatch players in the world compete…
Grab your friends and kick off the season in New York on February 8.
Take your loved one on a Valentine's Day date in Shanghai, then catch some matches the next day on the Dragons' home turf.
Ever wanted to see Seoul in the winter? Head to the heart of esports in early March for the Dynasty's first home games.
Don't put off that dream Paris vacation any longer—book it to coincide with the Eternal's first home matches on April 11.
Cheer on San Francisco vs. Washington on the Fourth of July… in Vancouver.
Check your birthday weeks—and your friends' birthday weeks—all the way up to the end of the regular season on August 9, 2020.
Mark your calendars now: 2020 tickets go on sale Wednesday, August 28*, on overwatchleague.com.
Stay tuned to your favorite team's social media accounts for announcements about where their new homes will be—it'll be your new home, too! In the meantime, join us at Blizzard Arena—home to the play-in tournament and all of the season playoffs up until the Grand Finals in Philadelphia.
*Tickets will go on sale in China and Korea at a later date.