2021 eMLS Cup presented by Coca-Cola is almost upon us, with the finale of the biggest eMLS season ever scheduled for March 20 and 21.
Some of the top EA SPORTS FIFA players in the country will face off for eMLS' top prize, in addition to a prize pool of $40,000. Here's all you need to know ahead of the tournament.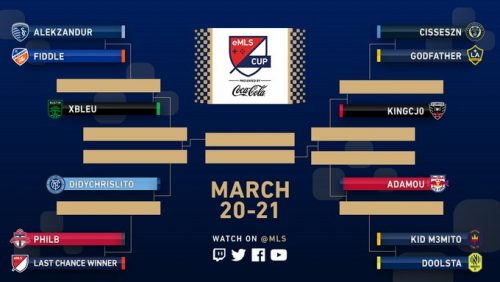 Who made it to eMLS Cup?
The top 11 players from the overall standings for 2021, based on regular-season play, have already qualified for the tournament, with the top four going straight to the quarterfinals
xBleu (Austin FC)
KingCCJ0 (D.C. United)
Adamou (New York Red Bulls
Didychrislito (NYCFC)
PhilB94 (Toronto FC
 Kid M3mito (Chicago Fire FC)
cisseSZN (Philadelphia Union)
ALEKZANDUR (Sporting Kansas City)
Fiddle (FC Cincinnati)
GODFATHER (LA Galaxy)
DOOLSTA (Nashville SC's)
All the other eMLS players, though, still have shot at eMLS Cup. They will compete for the final spot in the playoffs in their own bracket tournament, the Last Chance Qualifier on March 16-17. The winner of that has a date with PhilB94 in the opening round of eMLS Cup.
The three players to have won eMLS Cup in Adamou, Doolsta and Kid M3mito are back looking to claim the trophy once again, while Didychrislito is looking for a treble after winning League Series One and League Series Two in February. A pair of brothers also make the competition this year — cisseSZN and KingCJ0. If cisseSZN wins his match against GODFATHER, he will be up against his brother for a spot in the semis.
What is eMLS Cup?
eMLS Cup is the final of three eMLS competitions in 2021, following League Series One and Two. Matches will be played on EA SPORTS FIFA 21 exclusively on PlayStation 4, and the winner will receive a cash prize of $20,000.
Twenty-seven teams have participated in 2021, more than any other year since eMLS' inaugural season in 2018. The competition hosts many of North America's best EA SPORTS FIFA players, with 18 of them ranked in the top 100 of their respective regions. eMLS is the only Tier 1 qualifier to the EA NA Global Series Playoffs.
How to watch and follow
The opening rounds of eMLS Cup take place on March 20 and begin at 3 pm ET. The quarterfinals, semifinals, and final will take place the following day, March 21, at the same time of 3 pm ET. Fans can watch via Twitch, Twitter, YouTube, and Facebook as well as MLSsoccer.com and the free MLS App.
The full bracket can be found here.