Wizards of the Coast has unveiled Summer of Legend, a season-long set of products on various platforms, for everyone to enjoy. From Modern Horizons 2 and Adventures in the Forgotten Realms to Historic Anthology V coming to Magic: The Gathering Arena and the release of Dark Alliance, these next few months represent the biggest product rollout in the company's history.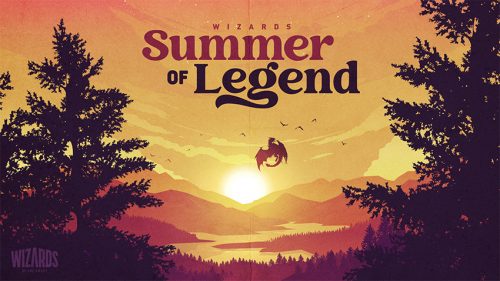 Modern Horizons 2
The second direct-to-Modern release, Modern Horizons 2, features more ways for players to collect and explore the format's newest cards. Alongside Draft booster boxes, players can also pick up Set Booster, Collector Booster, Bundle and Prerelease Packs. The set also features special card frames, including retro frames and artist sketch cards. Players will see 42 new-to-Modern reprints in Modern Horizons 2, including the iconic Counterspell, when the set releases on June 18th.
Adventures in the Forgotten Realms
This July, players from Dungeons & Dragons and Magic: The Gathering will come together and celebrate a moment more than 25 years in the making with Adventures in the Forgotten Realms. Wizards took the lid off the set for the first time, giving players a glimpse at a new card, gameplay mechanics and special card frames. Adventures in the Forgotten Realms releases on MTG Arena on July 8 and in local game stores worldwide on July 23rd.
DARK ALLIANCE
Developed by Wizards Studio, Tuque Games, and set in the Forgotten Realms, DARK ALLIANCE features real-time combat and dynamic co-op gameplay, and pits the infamous Drizzt Do'Urden and his legendary companions – Catti-brie, Bruenor, and Wulfgar – against some of the most iconic monsters from the world of Dungeons & Dragons. Players can experience the explosive action roleplaying game when DARK ALLIANCE releases on PC, PlayStation®4, PlayStation®5, Xbox One Consoles, and Xbox Series X/S on June 22nd.
The Return of In-Store Play
Wizards is reopening sanctioned Magic play in the United States starting May 28. While the process will vary store by store per local guidelines, it means players can return to visiting their local game store for Tuesday night drafting, Friday Night Magic, and Prerelease events. For Europe, the Middle East and Africa, Wizards will be assessing a phased return approach in the coming months, which aligns with relevant government guidelines and ensures players return to stores safely in each country.
MTG Arena
MTG Arena will see several new events and experiences coming this summer, starting with Historic Anthology V on May 27th where players get 25 cards added to the historic format. Additionally, the May Arena Open kicks off this Saturday, May 8th and features the return of the Sealed Deck format. Meanwhile, the Strixhaven College Cup on May 13th allows players to battle for points and prizes through the end of the month. Players will also see the return of Jumpstart on June 4 and the next Arena Open starting on July 31st.
Please check out DailyMTG for more information on Summer of Legend.