The independent studio Million Victories breaks new ground and launches, for the first time on its mobile MMORTS, an esports competition open to all!
Following the addition of competitive leagues during its last major update, the strategy game Million Lords has now crossed over 400k downloads. To commemorate the threshold, the French studio strikes even harder and prepares an ever more heated competitive experience for its new and veteran players.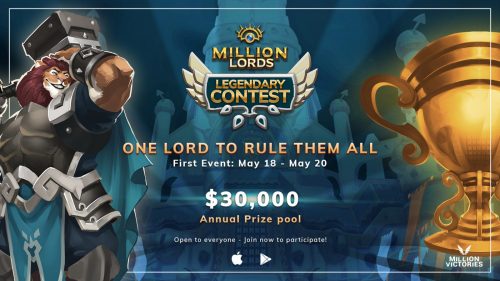 With an annual prize pool worth $30,000, the studio is excited to announce the launch of a very unique and challenging event, the first edition of which will take place from May 18 to 20. During these 3 consecutive days, 150 players from all over the world, split by region across 3 servers, will compete for the final throne.
The perfect opportunity for competitive players, but also strategy or conquest enthusiasts to discover a unique real-time strategy gameplay through an intense competition with a big reward. Thrills guaranteed right off the start!
"I am very excited to launch the first event where any player, even a new one will be able to attend an esports competition with a prize pool. All you need to do is start playing Million Lords right now and rank top in any league in March or April" emphasizes Benoît Ducrest, CEO of Million Victories.
Million Lords' updates also keep a high pace since many more are to come, including a meaningful enrichment of the clan system, new PvE features and in-game events.
Google play link: https://play.google.com/store/apps/details?id=com.millionvictories.games.millionlords
App Store link:
https://apps.apple.com/us/app/million-lords-strategy-mmo/id1290392434?ls=1
Million Lords website:
 https://millionlords.com/