PUBG Corporation has revealed details around its next premier esports event, PLAYERUNKNOWN'S BATTLEGROUNDS Continental Series 3 (PCS3). PCS3 consists of four regional tournaments across Europe, North America, Asia, and Asia-Pacific. Each of the teams will fight for the right to be crowned their region's Grand Champions and to win a share of the $200,000 USD regional prize pool (a total of $800,000 USD winnings across all regions).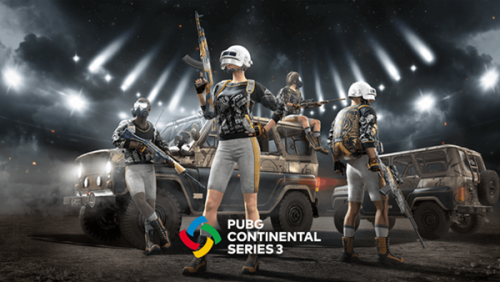 Prior to the PCS3 Grand Final, each region will host their own qualification round. The PCS3 Europe Group Stage takes place from October 13-18, with matches starting from 18:00 CEST. During the Group Stage, 24 top teams – including previous PCS winners FaZe Clan, TSM and Northern Lights – will battle it out for one of 16 places in the Grand Final and a share of the $200,000 prize fund. PUBG esports fans can watch all the PCS3 Europe Group Stage action on Twitch and YouTube – where they will be joined by expert Talents James 'Kaelaris' Carrol, Steven 'Toffees' Pierce, Martin 'Avnqr' Gøth, Patrick 'Frosz' lu, Tobias 'TheNameIsToby' Wiinblad, Richard 'TheSimms' Simms and Michael 'hypoc' Robins.
Once the PCS3 Group Stages are over, fans can look forward to the action culminating at the PCS3 Grand Final. Scheduled to take place across three weekends, each regional tournament's Grand Champions will be determined after 24 matches. Fans can tune in to each PCS3 Grand Final on:
Europe: Nov. 7-8, Nov. 14-15, Nov. 21-22

North America: Nov. 5-6, Nov. 12-13, Nov. 19-20

Asia: Nov. 5-6, Nov. 12-13, Nov. 19-20

Asia-Pacific: Nov. 7-8, Nov. 14-15, Nov. 21-22
Finally, the Pick'Em Challenge is back for PCS3. The event gives fans a chance to obtain in-game rewards for guessing the winners of each regional tournament. Like previous events, a voting coupon is required to cast a vote, which can be obtained by purchasing celebratory PCS3 items or by watching the tournaments. A sneak peek of the in-game PCS3 items can be seen below. Fans can expect 25% of the event's in-game profits to be distributed back to the pro teams across all four regions. The Pick'Em Challenge will begin on October 28 for PC and October 29 for console, with both concluding on November 19.
 For the latest on PCS3 Europe, please visit the official site.