PUBG Corporation  announced that PLAYERUNKNOWN'S BATTLEGROUNDS LITE (PUBG LITE), a free-to-play adaptation of PUBG that aims to deliver the core game experience while balancing lower hardware requirements, will be launching in 52 additional European and Middle Eastern countries on 10th October 2019. The full list of countries can be found here. Pre-registration is now open and all players who pre-register will receive free in-game items, which include the M416 (Desert Camo) and AKM (Rockstar) weapon skins. Pre-registration closes on 8th October at 6:00AM BST/7:00AM CEST/8:00AM MSK. PUBG LITE is currently in Open Beta, which means stability and compatibility are continually being optimised and improved throughout the test period. The data of the Open Beta will not be reset when converting to the official launch.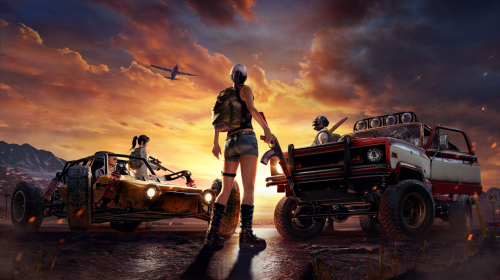 "Since its conception, PUBG LITE has been designed to be a version of our game that is accessible to gamers with low specification computers and laptops, while providing the same sophistication in action and gunplay experience of the original PUBG game. From January 2019, we have worked hard to carefully listen to our community's feedback to improve the quality of the game and we can't wait to see how our newly added countries react, and how the game will continue to develop." said Minkyu Park, Development Director of PUBG LITE at PUBG Corporation.
PUBG LITE offers fans, who were previously unable to access the game, to now have the chance to play PUBG through PUBG LITE with the thrill and experience of the original game. Players will take to the skies and descend onto a deserted island to compete among 100 players in a struggle for survival. Gather weapons, vehicles and supplies, whilst strategizing and outwitting opponents to become the last person standing. Alongside the 10th October launch, players can also look forward to other content, including:
4 VS 4 Match
A new 4 VS 4 mode is included in PUBG LITE. In this mode, the pace of the game is pushed to the limit as two four-person squads battle for survival. The mode takes place in a deserted warehouse surrounded by old shipping containers and vehicles, allowing each of the teams the chance to skillfully outmaneuver each other on their quest to become the first squad with 40 eliminations.
New Season
LITE PASS: Free, an upcoming new season pass, will be available to all players free of charge and includes completable missions that award in-game items as players level up. For players wanting more, they can purchase the LITE PASS: Premium and LITE PASS: Premium Plus which gives them the option to unlock even more missions and rewards. Finally, a new Collector's Crate and Special Crate have also been added alongside other exclusive items that will be sold separately through a new in-game currency called L-COIN.
As PUBG LITE expands to 52 new European and Middle Eastern countries, it will now also include language support; English, Turkish, Portuguese (BR), Portuguese (PT), Spanish (LA), Spanish (ES), Russian, German, French and Polish.
Ahead of PUBG LITE going live on 10th October, players can now download the launcher via https://lite.pubg.com/download/.
Fans can look forward to more feature updates and regional expansions of the PUBG LITE Open Beta service in the near future. For more information about PUBG LITE, visit the official website at http://lite.pubg.com
About PUBG Lite
PUBG LITE is the free-to-play, low-spec adaptation of PLAYERUNKNOWN'S BATTLEGROUNDS (PUB G). PUBG LITE aims to deliver the core PUBG experience while balancing lower hardware requirements. PUBG LITE is a standalone product from the core game and has its own dedicated development team that creates exclusive content and quality of life features for PUBG LITE players.