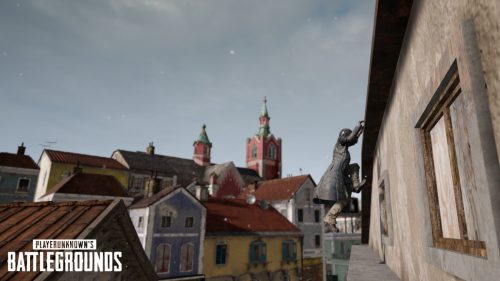 PLAYERUNKNOWN'S BATTLEGROUNDS (PUBG) continues to release a series of big updates adding more refined gameplay mechanics, new features, and a new vehicle and weapon. This week, two large updates have been released for PUBG on PC live servers and consoles. The PC update brings the new Ledge Grab mechanic and vehicle, BRDM-2, among other things. The Console update brings more gameplay progression options with Weapon Mastery, in addition to an auto equip feature and a new control scheme.
All these refinements and new content are in addition to the upcoming Erangel Visual Update, which will see the iconic map getting a visual and gameplay update, that update will roll out later this summer.
Check out the full list of what's new below!
PC Patch Update #30:
New Vehicle: BRDM-2
BRDM-2 can only be called in as a special Care Package using the Flare Gun on all maps and it replaces the armored UAZ.
Over waterways or terrain, this amphibious vehicle increases your options to navigate firefights and the Battlegrounds themselves.
New Weapon: Deagle
The Deagle is a handgun that deals the strongest pistol damage with great muzzle velocity and will be spawned on all maps.
Deagle can deal 62 damage per shot and take both red-dot and holographic sights, various magazines and a laser sight that improves hip fire accuracy.
Gameplay feature: Ledge Grab
Ledge grab allows you to take new paths by climbing up the edge of roofs, fences, and obstacles up to 2.5 meters high, and jump from building to building or container to container.
Now that players can move to places they weren't able to reach before, players can now employ new strategies by climbing to places their opponents won't be able to anticipate.
Improved Gas Can
Added strategic elements to the Gas Can, an item that used to be seen to have few advantages to loot.
As soon as Gas Can explodes, it will deal damage to all players in a radius around its location.
Radio Message
The PUBG team is introducing text-based Radio Messages that will help players communicate with their team more quickly and easily for successful strategic gameplay.
Players can hold the mouse wheel or F3 to open the Radio Message Wheel UI to ping locations, items and spot enemies and share that info with their team.
Survival Supply System
The new limited-time "Survival Supply System" has been added to help players earn even more Battle Points (BP) to acquire cool in-game items. The new system will provide daily and weekly missions to accomplish and earn BP as a reward. The free Survival Supply System will run from after June 26th, 2019 up until live server maintenance on July 24th, 2019.
Unlike the previous Supply System, there is no level and rewards once daily/weekly missions are accomplished. Rewards start at 200 BP and go up to 1,500 BP.
New Skins & Items
New skins can you purchase directly with BP.
Added 2 GLL Grand Slam: PUBG Classic items
Added 2 MET Asia Series: PUBG Classic items
Added 10 Summer Season items
Added 10 Twitch Broadcaster Royale items
Added 2 BattleStat Skins items
Added items for purchase directly with BP.

2 BattleStat Skins
6 shoes
Further Refinements
Changes to Weapon Mastery include the addition of Emblem animations, and more options to view, equip and unequip weapon charms.
New UI/UX options allow for more brightness options per individual map, and refinements to the readability of the parachute UI, a new Featured page for the Store and refined Survivor Pass in-game mission UI.
Performance improvements with loading/rendering buildings and reduced delay when opening crates from the Store.
Custom Matches now feature the 2019 Global Rule Present in the Custom Match Esports Mode, and further options for sorting players and custom game creation
Replay system has been updated
June Console Update:
Weapon Mastery
New progression feature in PUBG with unique, awesome, and free rewards
New avenue for players to improve their weapon skills
Tactical Marker
The map now has six marker options to choose from depending on the situation
Second Erangel Loot Spawn Rebalance
Increased spawn rate of AR, DMR and SR
The featured map will be changed to Erangel from Sanhok with the June Update
Vikendi Loot Spawn Rebalance
Blue Zone adjustment
Increased spawn rate of AR, DMR and SR (especially SR)
Auto Equip Attachments
Handling attachments with the controller can sometimes be difficult and players would sometimes avoid early combat due to having insufficient time to equip attachments
To solve for this, the PUBG team created an auto-equip attachment feature to reduce time when equipping needed attachments. Less time in your inventory means more time for battle!
Controller Preset C
Like the above auto equip feature, the PUBG team are focusing on improving overall player experience during battles
On the controller, leaning is configured to thumbsticks and it can sometimes affect players' movement and aim
Controller Preset C moves the bindings of leaning from the thumbsticks to the bumper buttons, as well as making a number of other suggested changes. More details coming soon.