After 10 days of exciting PUBG esports action, TSM – consisting of Christopher "Fexx" Wheddon, Alex "vard" Gouge, Justin "MiracU" McNally and Omer "Iroh" Develi – won the PLAYERUNKNOWN'S BATTLEGROUNDS Continental Series (PCS) 1 Europe Grand Finals on Sunday 5 July to claim $50,000 USD of the $200,000 prize pot. The remainder of the prize money was split between the other 23 teams who competed in the tournament, including the eight rosters who were eliminated in the PCS1 Europe Group Stage.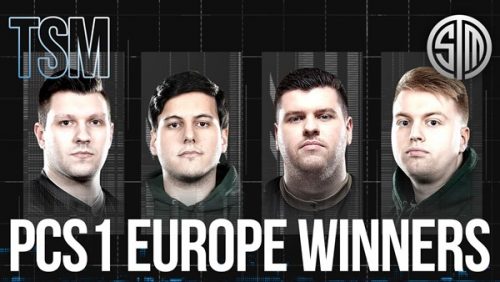 The PCS1 Europe Group Stage
TSM's path to becoming champions started on 9 June when the roster locked horns with opponents over six days at the PCS1 Europe Group Stage. After playing 24 high-intensity matches, Tornado Energy led the pack, picking up three wins on route to accumulating 198 points.
The PCS1 Europe Grand Finals weekend 1
Team Liquid impressed most on the opening weekend of the Grand Finals, leading the pack with 93 points on the leaderboard. Hot on their heels was second placed ENCE with 82 points and TSM who finished the weekend with 77. The weekend's highlights included Redline's mykLe taking an impressive double kill against The Nuclear Penguins in Match 2, an entertaining clash between UNITY's Orange and Tornado Energy and an incredible individual performance from ENCE's SKUIJKE to take the win in Match 4.
The PCS1 Europe Grand Finals weekend 2
Despite a strong opening two days at the Grand Finals, TSM struggled to make their mark on Day 3 and finished with no wins – dropping to sixth place and finding themselves 21 points behind table-toppers ENCE. It was Tornado Energy who looked like the team to beat, picking up two wins on Day 3 – as well as a second and third-place finish. It was a day packed with intensity and impressive plays, highlights including an effective clean sweep from Natus Vincere in Match 11, and a stunning solo performance from FaZe Clan's ubah who survived until fifth place in Match 15 – despite the rest of his team going out in 15th.
With a 21-point gap between TSM and leaders ENCE at the start of the final day, it was going to take a monumental effort from TSM to give themselves a shot at winning the tournament.The experienced roster were in stunning form, taking three wins to fire themselves up the table and into the number one spot – finishing the last match with an impressive 15 kills and 25 points. They were followed by Tornado Energy, Northern Lights, Omaken Sports and Team Liquid who made up the rest of the top five.
Further details of the weekend's action will shortly be available on the official PCS Europe website. Players will now look forward to PCS2 Europe, with registrations for qualifying spots opening on Tuesday 7 July.
For more details on PUBG esports, visit https://pubgesports.eu/en.