Leading European esports organization Team Vitality has today opened the doors to V.Hive, a first of its kind, 10,700 sq ft esports complex in the heart of Paris. Created by HKS, the architects behind the Dallas Cowboys' AT&T Stadium and the Minnesota Vikings' U.S. Bank Stadium, the venue is a sprawling Apple-store-style concept store and community hub that is open to the public, and a cutting-edge pro player training facility and a base of operations for Team Vitality.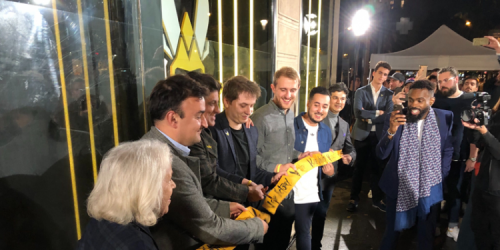 V.Hive is a truly unique offering in Europe, giving esports fans and the general public the opportunity to get closer to their heroes than ever before in engaging experiences. Purpose-built to be an 'esports town square' that will be a natural place for fans and people who are curious about esports to gather, the complex offers more than 530 sq ft of store front in the bustling centre of Paris for Team Vitality fans, and is designed to foster human esports experiences that will draw people into the Team Vitality universe.
V.Hive is built with the goal of becoming a full-scale event space, able to host national events, masterclasses, conferences, viewing parties and showcases, allowing Vitality to expand their scope in the world's fastest growing entertainment sector.  The venue offers a chill space for the esports community to share ideas and build fandoms, a high-end PC and console gaming space, as well as a luxury bootcamp for hire, facilitating the development of teams in the ultimate competitive environment. V.Hive also offers private content production facilities, streaming boxes, a WebTV studio and offices for Team Vitality.
The grand opening of V.Hive represents Team Vitality's continued evolution into esports most recognizable and influential global brand with a French heritage. The team is already a permanent resident at Stade de France where it has a brand-new training and high performance centre that gives players access to mental and physical coaches; and V.Hive is where the next generation of esports talent will also be forged, in the V.Hive player training facility.
"Our fans are at the core of everything we do, and the concept of V.Hive was to give them unparalleled access to our players and a base for them to experience esports united as a community," said Fabien "Neo" Devide, co-founder of Team Vitality. "The continued support of Rewired.GG means that we can continue to ensure all of our talent have the best opportunities, infrastructure and facilities to become the best competitors in the world."
Team Vitality is one of the biggest esports teams in Europe and boasts some of the world's top esports players and coaches. It is one of only ten European esports teams in the League of Legends European Championship franchise; and has recently won the 2019 World Championship for Rocket League, the 7th season of the prestigious ECS tournament for Counter-Strike:Global Offensive and took 3rd place in the 2019 FIFA World Championship. Team Vitality also boasts more mainstream sponsors than any other European esports team with blue chip sponsors such as Orange, Renault, Red Bull and adidas.
About Team Vitality
Team Vitality is an international esports organization that was founded by Nicolas Maurer and Fabien Devide in 2013. The team has players from ten different nationalities and boasts some of the biggest players in the world, including the world No.1 Fifa player, world No.1 CS:GO player, and the world champion Rocket League squad. Team Vitality players compete in a portfolio of 9 games with 10 competitive teams. Team Vitality's main League of Legends roster competes in the League of Legends European Championship (LEC), which they joined after purchasing Gambit Gaming's spot. They are sponsored by Orange, Red Bull, Renault and Adidas.
https://vitality.gg/en/
About V.Hive
V.Hive is the new 10,700 sq ft esports complex in the center of Paris, built to be a  one-stop-shop for esports fans and enthusiasts of Team Vitality. The site has 3 floors and is a state-of-the-art facility that has been designed by HKS and built by Global Agencement.  V.Hive houses private content production facilities, streaming boxes, a WebTV studio and offices for Vitality members, but also offers a public ground floor with a high-end PC and console gaming space for individual or team training and competitions.