CS:GO stalwarts ESL and BLAST revealed tweaks to this year's key competitions in ESL Pro League, BLAST Premier Fall Groups and IEM Fall , rescheduling the lineup.
Previously announced dates that were set for the ESL Pro League Season 14 and BLAST Premier Fall Groups have been rescheduled within their existing allocation to ensure competing teams receive flexibility in order to travel and compete. IEM Fall 2021 will also be rescheduled to avoid the existing clash with the Valve CS:GO Major. Professional teams were consulted and informed ahead of this update.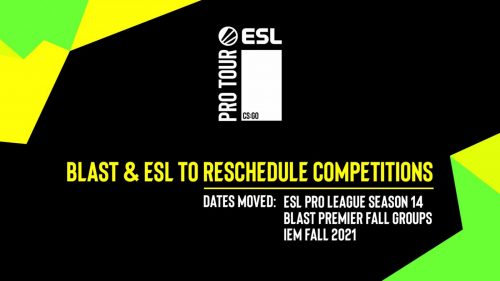 The altered dates can be seen below:
ESL Pro League Season 14: Aug 16 – Sep 12
BLAST Premier Fall Groups: Sep 16 – Sep 26
IEM Fall: Sep 28 – Oct 10
Check out the updated BLAST schedule here.